You're the Cadillac [Part 1]
Are you ready for some good news?
You're the Cadillac!
Today's text: "And I tell you, you are Peter, and on this rock I will build my church, and the gates of hell shall not prevail against it." - (Matthew 16:18, ESV)
Years ago, I had a car that was smoking. I mean literally. It had smoke billowing out the exhaust pipe. It was definitely time to get a new car. Well, not new – used. But, you know, new to me.
I decided to venture out and test-drive some cars I had never considered before. One of the cars I decided to check out was an older model Cadillac.
My grandmother always drove Cadillacs. Of the American made cars they have always been the crème de la crème. In fact, there's a figure of speech, "it's the Cadillac." It means simply "the most luxurious – the best."
So, I sat down in the driver's seat of the old Cadillac and felt a strange feeling. It was odd. I didn't expect it.
I felt like I didn't belong in the driver's seat of a Cadillac.
Never mind the fact that it was an older model and probably cost less than my previous car. But, it was a Cadillac! And I felt like I didn't fit with it.
Sitting there, feeling like I didn't belong in a Cadillac, I heard a distinct whisper of the Lord: "So, what other limits have you put on your life Alan?"
It wasn't about a Cadillac versus a Buick or a Chevrolet – it was about the invisible ceilings that I secretly put over my life.
God wants to tell you who you are. And He wants you to take the limits off your life.
When Jesus called the unstable Simon by a new name, "Peter," (which means "rock") the Lord was announcing a higher reality than the fickle disciple could have seen.
For the Christian, being an heir of every spiritual blessing in Christ isn't a goal to aspire to – it's a reality to adjust to.
You're the Cadillac. And that's the Gospel!
---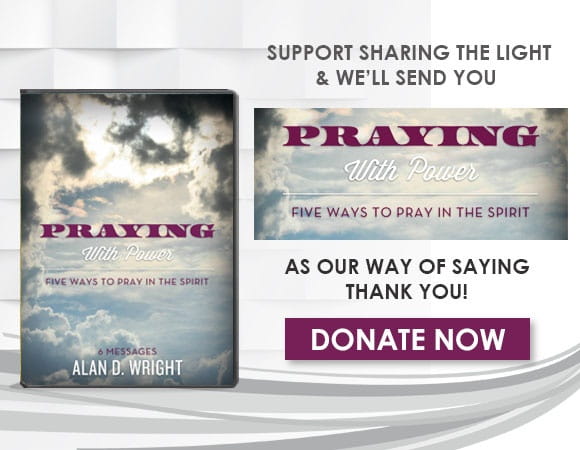 For more information please visit SharingtheLight.org.
Listen to the latest broadcast on OnePlace.com.