Living in the Light of the Gospel [Part 1]
Are you ready for some good news?
Walking in the light of God's love changes everything.
Today's Text: "This is the message we have heard from him and proclaim to you, that God is light, and in him is no darkness at all. If we say we have fellowship with him while we walk in darkness, we lie and do not practice the truth." (1 John 1:5–6, ESV)
God's love is epic. It is grand. It is not like the world's versions of love. It is all encompassing. This is at the heart of the little epistle of 1 John that we are studying in our radio broadcasts for several weeks.
When our son, Bennett, played soccer as a little boy my wife would say, "You go out there and have fun because it doesn't matter whether you win or lose; it just matters that you have a good time." I kind of winced when she said that because anytime I play sports it matters to me if I win or lose…but it sounds right, doesn't it? It sounds spiritual and right – don't be caught up in competition, just enjoy life.
But, in reality, life is full of competition and it does matter what we do! A salesperson never comes home to report "Well, I lost a $20,000 commission today, but it doesn't matter; the only thing that's important is I had a good time!" The lawyer doesn't come home after she's been representing a client that she thinks is innocent and says, "The innocent man was convicted of life imprisonment, but at least I had fun representing him." It's just silly. Of course, it matters what you do.
The pure gospel of the grace of the Lord Jesus Christ does not say that how we walk and how we live doesn't matter. However, these behaviors are not primary or ultimate. What's ultimately important is that you know who you are in Christ.
When you walk in the light of the truth of what God has done for you in Jesus Christ, it changes everything about your behavior. So, what comes first is the light of Jesus, and what comes second is the change in all of our behaviors. It matters how we walk, but the way in which we walk does not earn us a place of God's love. Instead, God's love determines how we walk. And that's the gospel!
---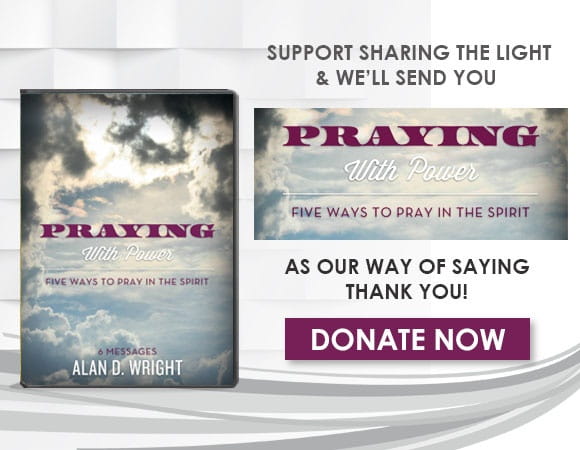 For more information please visit SharingtheLight.org.
Listen to the latest broadcast on OnePlace.com.