No Fear Here [Part 2]
Are you ready for some good news?
When you realize that the love of God is set upon you whether you succeed or whether you fail, then your whole motivation for success changes.
Today's Text: "By this is love perfected with us, so that we may have confidence for the day of judgment, because as he is so also are we in this world. There is no fear in love, but perfect love casts out fear. For fear has to do with punishment, and whoever fears has not been perfected in love. We love because he first loved us." (1 John 4:17–19, ESV)
There are two, primal, motivational forces in this world: fear and faith.
Everything we do is driven out of fear or out of faith. There are no other primary motivating forces in our lives. Adam and Eve lived and walked in pure faith in paradise until they sinned. Then fear consumed them. They became afraid of being rejected. And, if we dig down to the bedrock of our souls – what we really believe – we find that almost all of our fear is connected in one way or another to the same fear that Adam and Eve had: that they would be ultimately rejected by God.
The only answer to our fear of refection is the love of God for us in Jesus Christ. As John says, "Perfect love casts out fear" (1 John 4:18). The word perfect means it is finished, complete, and total. God's love for us is without condition and without end. Where there is perfect love, fear cannot coexist. Fear and love are like oil and water. The two are utterly incompatible.
It means that the only way to less fear in a relationship is to add more love. Wherever love is extended, fear diminishes. Wherever love is withheld, fear increases. This is an principle of staggering importance for parents.  Do you want your kids to have more fear? If so, withhold love and acceptance. But if you want fear to be cast out, grant your kids love and acceptance no matter what. Discipline behaviors, but never withdraw love.
Perfect love, found only in Jesus Christ, casts out fear. You can count on it. And that's the gospel!
---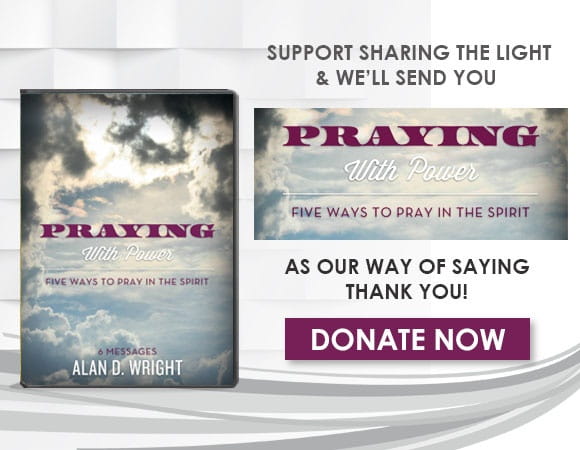 For more information please visit SharingtheLight.org.
Listen to the latest broadcast on OnePlace.com.