No Fear Here [Part 1]
Are you ready for some good news?
When you're in Christ, you can count on these truths: God chose you. God loves you. You belong to God.
Today's Text: "So we have come to know and to believe the love that God has for us. God is love, and whoever abides in love abides in God, and God abides in him. By this is love perfected with us, so that we may have confidence for the day of judgment, because as he is so also are we in this world. There is no fear in love, but perfect love casts out fear. For fear has to do with punishment, and whoever fears has not been perfected in love. We love because he first loved us." (1 John 4:16–19, ESV)
In our study of 1 John we come to one of the most famous verses in this epistle: "Perfect love casts out fear." Though it may sound odd, fear is a form of faith. Fear is faith in a negative direction. In that sense, fear is faith that something bad is going to happen.
Fear and faith both expect something. Fear asks, "What if ...," and always imagines something negative. What if I fail? What if I mess up? What if the provision isn't there? Fear directs our attention towards and somehow actually leads us into those negative outcomes.
Consider a common situation in basketball as an example. If it comes down to the last second and there's a player on the free throw line with the game in his hands, the other team will often call a time out. The announcer will say, "They want him to think about this for a bit." The other team wants that player to have time to ask, "What if I miss this?" The more fear that basketball player has that he is going to miss the free throw, the more likely he'll miss it.
It is the same in almost every arena of life. The very thing that you are afraid of actually lends itself towards that.
Faith does the same thing, but it moves us towards the positive – the Word of God. Faith is a gift of God that comes by hearing the truth. Faith grows as you believe that the epic, perfect  love of God is real and active on your behalf. Faith moves you towards the very things that God has promised. And that's the gospel!
---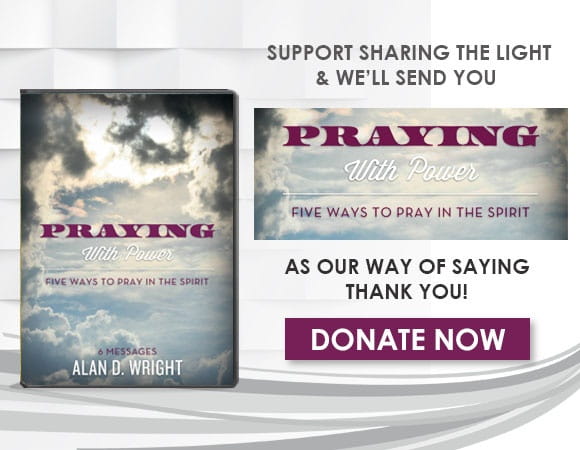 For more information please visit SharingtheLight.org.
Listen to the latest broadcast on OnePlace.com.