The Cure for Self Condemnation [Part 2]
Are you ready for some good news?
In Jesus Christ we are free from all condemnation.
Today's Text: "Little children, let us not love in word or talk but in deed and in truth. By this we shall know that we are of the truth and reassure our heart before him; for whenever our heart condemns us, God is greater than our heart, and he knows everything." 1 John 3:18-20                                             
Yesterday we began to look at this passage in 1 John 3 that juxtaposes our assurance in Christ with our tendency toward self-condemnation. All the powers of Hell would like to distance you from God, because God is your source of life, help, strength, joy, peace, and healing. However, the devil does not have power to remove you from the presence of God (Romans 8:38-39). If there is ever going to be distance between you and God, it will be because you succumb to some form of temptation that causes you to condemn yourself! Self-condemnation can cause saints to feel disqualified from the presence of God. When our hearts condemn us, we begin to believe that we do not belong in an intimate relationship with God.
Imagine a courtroom. The defendant is accused, and if the judge agrees with the accusation, he hands down a judgment of "Guilty." In relationships, we often put ourselves in the place of judge, hearing accusations against others and handing down judgments in our hearts. "Guilty as charged," we decide, "and therefore condemned with certain punishments." Self-condemnation is when you put yourself in the position of judge and you are the defendant.
The gospel changes this scene. You are the defendant, and you hear the voice of the Accuser. It comes all the time and tempts you to think that you need to prove that you are somebody special and that you deserve love. And then, in that courtroom, we witness an exchange. Instead of you standing in the courtroom, Jesus takes your place.
It's such extraordinary news. Jesus takes a guilty verdict, even though He was sinless, and then He is condemned to die in your place. By simply accepting that He did that on your behalf, you're taken out of the courtroom. You no longer live under condemnation. In a legal, full way, Jesus became your sin, you and you became His righteousness. And that's the gospel!
---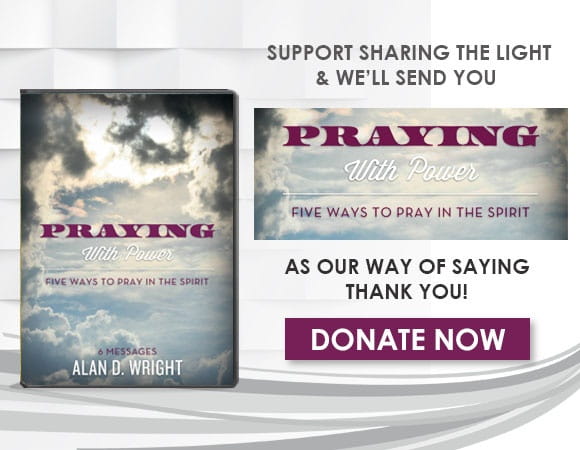 For more information please visit SharingtheLight.org.
Listen to the latest broadcast on OnePlace.com.