The Cure for Self Condemnation [Part 1]
Are you ready for some good news?
Because of Jesus, we are free to obey God, and in doing so we are more and more assured that we are loved.
Today's Text: "Little children, let us not love in word or talk but in deed and in truth. By this we shall know that we are of the truth and reassure our heart before him; for whenever our heart condemns us, God is greater than our heart, and he knows everything." - 1 John 3:18-20                                            
Here's the wrong interpretation of 1 John 3:20: when you come into the presence of God, if you haven't been living a really righteous life, then your heart will condemn you. Furthermore, God is greater than your heart, so He knows even more of your sin than you do. If you aren't living an extremely obedient life, you will be condemned in the presence of God.
Uggh. If that is what 1 John 3:20 means, then it is terrifying. How could you ever live so righteously that God, Who sees your every thought and action, and knows all your failings, would have no reason to condemn you?
This cannot be what John is saying, because his whole epistle could be summarized by the phrases, "God is love," and "perfect love casts out fear." First and foremost, John wants us to be assured of our position with God in Christ Jesus. You can be confident that you are a child of God, and that nothing could ever separate you from a Father who loves so deeply.
No longer is the question, "Do I belong here?" or "Have I done enough?" All of that is set aside and you are given the privilege and opportunity to live in complete self-forgetfulness. In the great paradox of the gospel, you are made righteous by faith in Christ, and that enables you to live the life that God calls you to live. You're free to be with God and to obey God. When you live this kind of life – when you love not just in word, but in deed – your heart is assured that you are not condemned.
It's a subtle shift in thinking, but it is everything. The gospel doesn't say, "Obey God so that you will be loved." The Good News says, "Obey God so that you can find out that you are loved." And that's the gospel!
---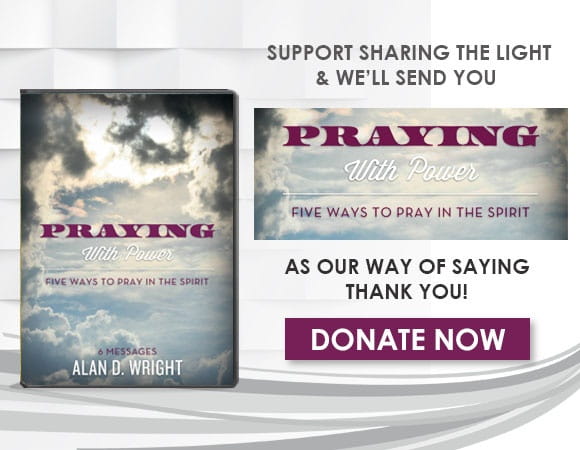 For more information please visit SharingtheLight.org.
Listen to the latest broadcast on OnePlace.com.