Looking Forward to Christ's Return [Part 1]
Are you ready for some good news?
We can look forward to Christ's second coming, because we have nothing to fear. We belong to Him.
Today's Text: "And now, little children, abide in him, so that when he appears we may have confidence and not shrink from him in shame at his coming. If you know that he is righteous, you may be sure that everyone who practices righteousness has been born of him." (1 John 2:28–29, ESV)
The mental filter that you bring to a text skews the way you read it. 1 John 2:28 could be read like this:  "Abide in Him, so that when Christ returns you won't be ashamed of how sub-standard your spirituality is." Such a reading is, of course, problematic at many levels. In addition to the fear and uncertainty such a legalistic reading would stir in your heart, wouldn't you constantly ask yourself, "Am I living 100% for God? Am I doing enough abiding in Him so that I won't shrink from Him shame when He comes?"
When you read 1 John 2:28 with the lens of the whole gospel of grace, you hear it more like this: "Abide in Him, because the more that you abide in Christ, the more your heart will be filled with the assurance that you belong to Him and that there is nothing to fear about seeing Him face to face."
God wants you to revel in the certainty that for you, the day of meeting Christ will be the greatest delight of your life. The more that you abide in Him, the more your heart will be guarded by this astonishing hope. And the more you are filled with that hope, the more you will be empowered to live out your God-given destiny on earth.
The first way of reading 1 John 2:28 arouses fear. Watch out. Jesus is coming back. Abide in Christ or else when He comes, you're going to be put to shame. The second way ( the true Gospel way) of reading the verse arouses faith. Abide in Christ so that you will be increasingly assured of how much He loves you and how deeply you have been blessed in Christ. In doing so, you will have hope and live out the abundant Christian life. And that's the gospel!
---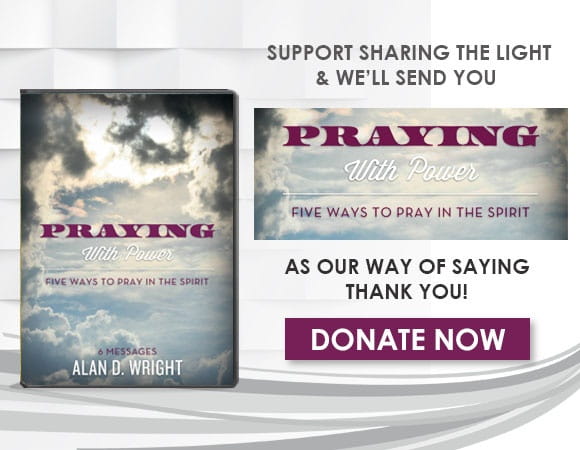 For more information please visit SharingtheLight.org.
Listen to the latest broadcast on OnePlace.com.