The Four Stages of Growth in Grace [Part 3]
Are you ready for some good news?
You grow by the power of the gospel; you grow because of the grandeur of God's love.
Today's Text: "I write to you, fathers, because you know him who is from the beginning. I write to you, young men, because you are strong, and the word of God abides in you, and you have overcome the evil one." (1 John 2:14, ESV)
We are exploring a passage in 1 John 2 where John encourages believers at every stage of spiritual growth. This isn't a parenthesis in the middle of John's epistle; this is John assuring all of us that everything he teaches applies to us, no matter where we are in our spiritual journey. Whether we are new in faith like little children or we are spiritual mothers and fathers, we are loved deeply. All of life is about growth.
Some years ago I had been through a lot of stress and it began to take a toll on my body. I was fine spiritually, but my body was starting to show signs of exhaustion, and I began experiencing a troubling irregularity in my heartbeat. I'd never had any problem like that, and although I would eventually be gladdened by the diagnosis of it as a harmless issue, I was anxious about the whole matter. I decided to go visit a buddy of mine in Florida, get some sunshine, play some golf, and ask some dear friends to pray for me. On the way to the airport Matt Maher's powerful song, Hold Us Together, began playing on the radio. I was drawn to the song as if God was speaking just to me. The bridge of the song declares, "This is the first day of the rest of your life!" When I heard those words, a great smile broke across my face. "That's right! It doesn't matter what's happened before this point. This is the first day of the rest of my life."
That's all it takes to have hope. Wherever you are right now – this is the first day of the rest of your life. From this point forward, you can grow every day of your life until you die and go into the glory of God, where I expect that we get to keep growing!
Beloved, it's the first day of the rest of your life. No matter whether you are in your spiritual infancy or you are a long-time spiritual father or mother, the best is yet to come in Christ! And that's the gospel!
---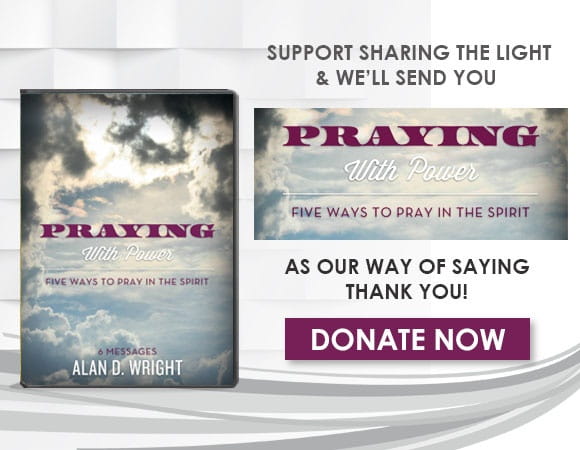 For more information please visit SharingtheLight.org.
Listen to the latest broadcast on OnePlace.com.