The Four Stages of Growth in Grace [Part 2]
Are you ready for some good news?
Your life will be changed simply by being in relationship with God the Father.
Today's Text: "I am writing to you, little children, because your sins are forgiven for his name's sake. I am writing to you, fathers, because you know him who is from the beginning. I am writing to you, young men, because you have overcome the evil one. I write to you, children, because you know the Father." (1 John 2:12–13, ESV)
Last week we began looking at a beautiful passage in 1 John 2 where John encourages believers at every stage in the Christian walk. We were reminded about the incredible joy that is found in discovering the gospel like a little child. Knowing that our sins are forgiven changes everything! Today we look at John's assurance to those a bit older in the faith. "I write to you, children," John says, "because you know the Father" (1 John 2:13b).
In his classic, Knowing God, JI Packer has written:
"You sum up the whole of new Testament teaching in a single phrase, if you speak of it as a revelation of the Fatherhood of the holy Creator…  If you want to judge how well a person understands Christianity, find out how much he makes of the thought of being God's child, and having God as his Father.
As we grow in the gospel, you know that your sins are forgiven (a gift which is mainly about you), and then you come to know God as Father. You begin to understand your spiritual life in terms of a living relationship with a Father Who interacts with you. Your life is watched over and prudentially cared for by a Father Who knows more than you can, sees more than you can, cares more than you can, and provides in a way you never could.
When you come to know God as Father you become safe and secure so you can venture forth. God's plan is that we grow not out of fear of what we're missing, but out of the assurances of what we have been given.
Being a Christian is not about following a set of principles. It is certainly not about trying to obey a set of rules or embrace an ideology. It's not even about making sure that you have all the right doctrine, although that's important. The essence of being a Christian is being in a relationship with God. When you begin to grow in the gospel, you interact daily with Him in a way that shapes you, for He is alive and real. The love of Father God transforms you. And that's the gospel!
---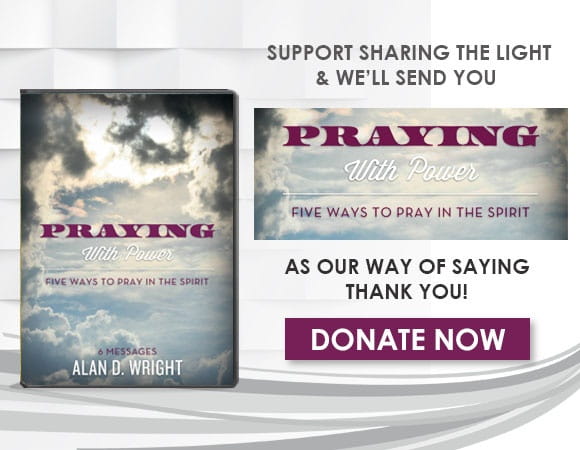 For more information please visit SharingtheLight.org.
Listen to the latest broadcast on OnePlace.com.