Your Day in Court [Part 1]
Are you ready for some good news?
You'll get your day in court – and, wow, what a glorious day it will be.
Today's text: "Moreover, it is required of stewards that they be found faithful. But with me it is a very small thing that I should be judged by you or by any human court. In fact, I do not even judge myself." (1 Corinthians 4:2–3, ESV)
On an old gravestone was inscribed:
"Pause, stranger, when you pass me by, As you are now, so once was I.
As I am now, so will you be;
So prepare for death and follow me."
Some years later, a witty tourist wrote this at the bottom of the inscription–
"To follow you I am not content Until I know which way you went."
The Bible isn't shy about the reality of hell any more than it is about the reality of judgment against sin. To announce a message of grace isn't to proclaim, "all is well for anyone." It is, instead, to announce good news of salvation to anyone who wants it. Many people don't want it. Many people choose hell on earth. In the end, God will grant people what they want for eternity. J.I.Packer put it succinctly: "Hell appears as God's gesture of respect for human choice. All receive what they actually chose, either to be with God forever, worshipping him, or without God forever, worshipping themselves (Concise Theology, pp. 262-263).
With heaven and hell weighing in the balance, several scenes in the scripture paint a picture of a heavenly courtroom. The picture is simple and powerful. Our Father is the judge. Christ is the attorney/advocate. Satan is the prosecuting accuser and we are the ones on trial. The good news for the Christian is astounding. Though the devil roars accusations, the prosecutor of our souls has no legal standing because the penalty has already been paid. Our crimes have already been judged and justice has already been doled out. The good news of the Gospel is not that God overlooks sin; the good news is that God Himself made the payment for sin so we are no longer on trial.
Drink in the words of Charles Spurgeon: "My soul, sit down, and behold the justice of God as bound to punish sin; see that punishment all executed upon thy Lord Jesus, and fall down in humble joy, and kiss the dear feet of Him whose blood has made atonement for thee. It is in vain when conscience is aroused to fly to feelings and evidences for comfort: this is a habit which we learned in the Egypt of our legal bondage. The only restorative for a guilty conscience is a sight of Jesus suffering on the cross." No devil can bring an accusation against those in Christ because their debt no longer exists. And that's the Gospel!
---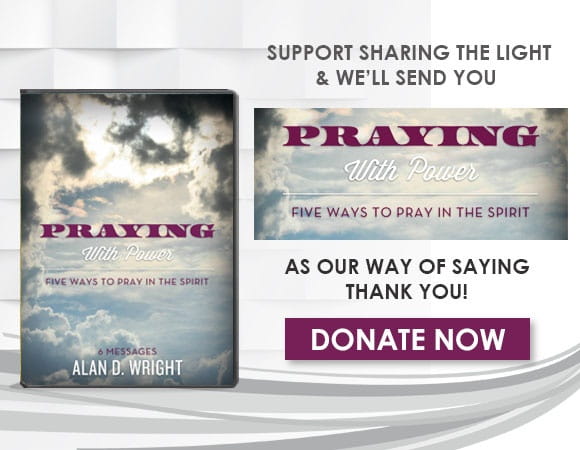 For more information please visit SharingtheLight.org.
Listen to the latest broadcast on OnePlace.com.