Justice and Mercy [Part 2]
Are you ready for some good news?
God is a jealous God. And, yes, that is extraordinarily wonderful news.
Today's Text: "The Lord passed before him and proclaimed, "The Lord, the Lord, a God merciful and gracious, slow to anger, and abounding in steadfast love and faithfulness, keeping steadfast love for thousands, forgiving iniquity and transgression and sin, but who will by no means clear the guilty, visiting the iniquity of the fathers on the children and the children's children, to the third and the fourth generation."" (Exodus 34:6–7, ESV)
As we learn about the beauty of balance in God, it is imperative to see the good news of the jealous nature of God
Many years ago, Oprah Winfrey was interviewing the best-selling author of The Road Less Travelled, Scott Peck, when the conversation turned to theology. Oprah confided that a big stumbling block from her church upbringing was the notion of God being a jealous God. In expressing her genuine bewilderment, Oprah said (and I paraphrase), "Why would God be jealous? He has everything. What could he possible want that He doesn't already have? Of whom could He be jealous?"
Though I'm not thoroughly familiar with Oprah's theological perspectives, I'm pretty sure that the notion of God's jealousy played a part in leading her to embrace a more general spirituality rather than orthodox, evangelical Christianity.
Her interpretation of the jealousy of God was, however, gravely misguided. The Bible doesn't describe God's jealousy along the lines of human covetousness. God isn't jealous because He is needy and insecure. God has all things, controls all things, and knows all things. There is no inadequate place in God. He has no jealousy of someone else's position or accomplishment or power.
God's jealousy isn't rooted in His insecurity; it is rooted in His love.
If a husband isn't jealous when his wife is unfaithful to him, then we rightly question whether the husband loves the wife at all. The fact that God refuses to share His bride with any idolatrous spiritual suitor proves that God, the Bridegroom is filled with burning love.
God wants our complete allegiance because our idolatry is like spiritual adultery. He loves us and therefore is jealous for us. And that's the Gospel!
---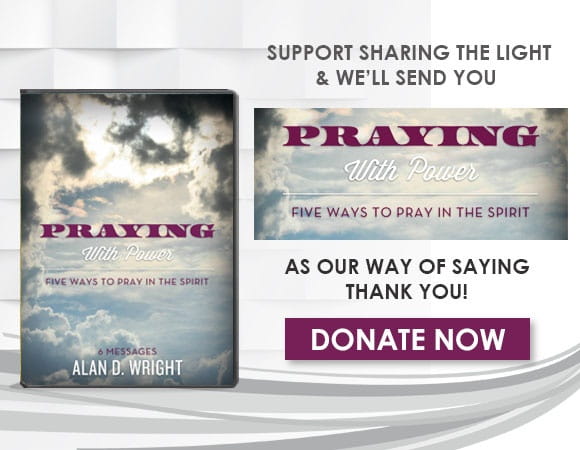 For more information please visit SharingtheLight.org.
Listen to the latest broadcast on OnePlace.com.