Celebration and Contemplation [Part 2]
Are you ready for some good news?
Celebration and contemplation are not in competition with the Christian life; they are wed.
Today's Text: "I will extol you, my God and King, and bless your name forever and ever. …. On the glorious splendor of your majesty, and on your wondrous works, I will meditate." (Psalm 145:1–5, ESV)
Within a few verses the psalmist speaks of both extolling the Lord and meditating on His goodness.
Half of the elves in Eccleeze were convinced that the way to grow tall was through dancing and celebrating exuberantly. The other half was insistent that the only way to grow was to study and think deeply. That's the context of my Dr. Seuss-like poetic allegory that highlights the unfortunate distance between the Christians who love the spontaneity of the Spirit and those who value the deep study of the Word.
The deep-thinking elves were convinced in their heart,
That great thinking was how their tall growing would start.
But the deep thinkers were not the only elves in Eccleeze;
There was another elf clan that the thinkers wouldtease.
The other short tribe was also quite small,
And they, like the thinkers, wanted to grow up real tall.
But instead of thinking, they tried a different trick to get big,
They would jump, they would shout and then dance a jig.
Everything changed one day when the elves of Eccleeze heard a strange sound:
There was a thumping and shaking on every elf floor;
So both dancers and thinkers poked their heads out the door.
The sight that they saw was a marvelous sight:
A man in Ecleeze who was five times their height!
Visit sharingthelight.org for the full, fun poem that I hope will keep you mindful of the place for both celebration and contemplation in the Christian life. If you have only the Spirit or only the Word, your spiritual growth will always be stunted; but when you have Spirit and Word, you grow into a spiritual giant. And that's the Gospel!
---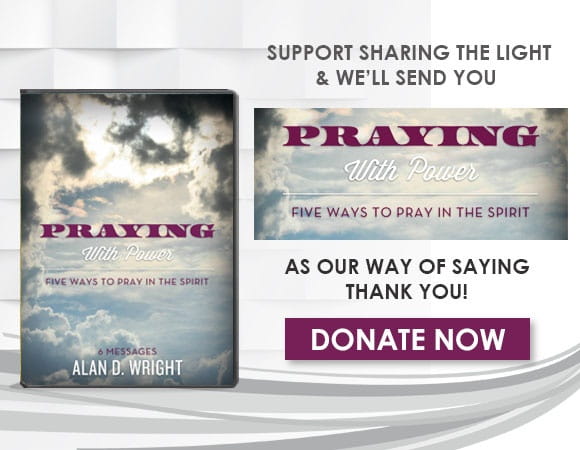 For more information please visit SharingtheLight.org.
Listen to the latest broadcast on OnePlace.com.