Getting Rid of the Slave Woman [Part 2]
Are you ready for some good news?
You're not a child of slavery; you're an heir of the promise!
Paul makes this point dramatically using the image of Sarah's maidservant, Hagar.
"But what does the Scripture say? "Cast out the slave woman and her son, for the son of the slave woman shall not inherit with the son of the free woman." So, brothers, we are not children of the slave but of the free woman." - (Galatians 4:30–31, ESV)
A lot of well-meaning Christians are trying to do God's will by human power. Paul says this is what Hagar symbolizes in the story of Abraham and Sarah. Because Abraham and Sarah believed they needed to do something to bring the promise of God to pass, Hagar was brought into their home to conceive a child as a surrogate mother. As soon as Sarah invited Hagar to be the means by which they would seek their destiny, Hagar started to despise Sarah. Eventually, Ishmael, Hagar's son, mocked his brother Isaac, the child of promise. In the end, the only solution was to get rid of the slave woman in order to end the conflict.
Here's Paul's big point: Law and grace cannot mix. You cannot acquire God's promise by human power. Get rid of all thinking that is slave thinking. Get rid of the slave woman and you'll get rid of the fruit of her womb.
We too often try to attack our sins as individual trespasses by our own self-will and power. It doesn't work. You're not going to conquer your impatience by deciding to be more patient. You won't stop lusting by promising to work harder to stop. That's human effort. That's "Hagar/Ishmael" thinking. You have to do something more than that.  You have to get rid of "Hagar" altogether. You have to get rid of a system of life that is based on law.
The law makes you always feel like a failure and incites worse sin because you are living with angst. Live by the promise and you will work hard and live strong not because of fear but because of faith. Win the battle by the gospel which replaces law with grace. It's all the difference in the world. It's the difference between Hagar and Sarah. It's the difference between Ishmael and Isaac. It's the difference between death and life! And that's the Gospel!
---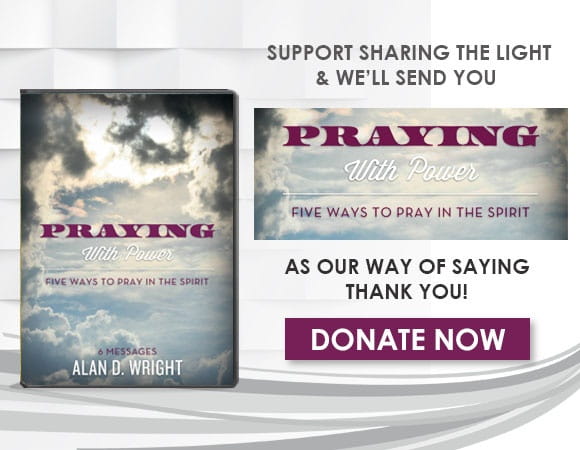 For more information please visit SharingtheLight.org.
Listen to the latest broadcast on OnePlace.com.