Faster Pastor and Heirs of Grace [Part 3]
Are you ready for some good news?
In Christ, you're more than free – you are an heir!
"And because you are sons, God has sent the Spirit of his Son into our hearts, crying, "Abba! Father!" So you are no longer a slave, but a son, and if a son, then an heir through God." - (Galatians 4:6–7, ESV)
Throughout history, the God of Abraham, Isaac, and Jacob assured His people that they were heirs.
When the people of God fell into slavery in Egypt, God heard the cry of their hearts. He delivered them. The story, though, is about more than the Red Sea parting and swallowing up the enemy. The drama is about what the people would do with their freedom.
Would God's people be able to embrace their freedom or would they act like orphans?
When the Israelites sent spies to scout out the Promised Land, they returned with a bad report. "There are giants there. We can't take the land." Essentially, they told their people, "We are not heirs after all." If they had believed the land was theirs, they would have taken it; but they couldn't see themselves as heirs. God had given them an inheritance, but they longed to go back to slavery in Egypt.
This parallels the deep truth Paul shares in Galatians 4. We have been delivered spiritually by the great, outstretched arm of God, brought through our own Red Sea. By the blood of the lamb, we have been set free.
But if we continue to think like orphans, we are really no different than slaves.
Don't see life as if you are a slave, barely getting by. Look on life as if you are the one who has been given the spiritual riches of the kingdom of God. The very power of God that raised Jesus Christ from the dead is at work in you. God says, "Believe it!" Please, believe it, because the territory you have to take is at stake. Believe it because you were made for a great purpose. You are more than free; you are an heir to a spiritual fortune. And that's the Gospel!
---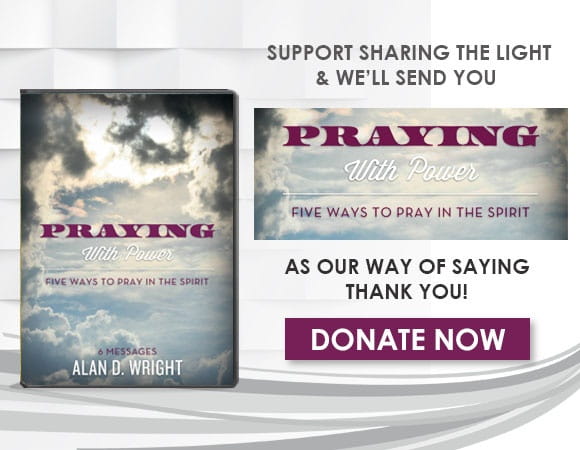 For more information please visit SharingtheLight.org.
Listen to the latest broadcast on OnePlace.com.