Faster Pastor and Heirs of Grace [Part 1]
Are you ready for some good news?
There's no need to fear. In Christ, you are an heir!
"And because you are sons, God has sent the Spirit of his Son into our hearts, crying, "Abba! Father!" So you are no longer a slave, but a son, and if a son, then an heir through God." - (Galatians 4:6–7, ESV)
A few years ago, Daniel, a leader for Joy FM and our radio producer, invited me to participate in some fun called "Faster Pastor." Because his gospel radio network sponsored a racecar at the Charlotte Motor Speedway, his team was also invited to host a pastor for a funny race at the Speedway. Since I serve as an occasional on air pastor for Joy FM, they thought it'd be cute to invite me to be the driver.
We wouldn't be racing cars; we would race old school buses! I can't believe I said yes.
I'm not racer. I've never driven a bus. But, I figured, just a little fun; no big deal, right?
Wrong. When my family and I arrived the night of the race, we realized that there were thousands of race fans in the stands that night and though we were just a sideshow, I soon realized that the other pastors knew what they were doing. Some had racing suits on! We got a tour of the giant Charlotte Motor Speedway and were given an "orientation." I put quotes around the word because it was no instruction at all. They just gave me helmet with some earphones, strapped me into the bus that was all beaten up (why were there so many dents and bruises all over the bus?) and said we could ride around the infield for a few minutes in case we'd never used an airbrake before (what's an airbrake?)
We got in line for the race. I was, well, terrified. I had no idea what I was doing (except a real racecar driver gave me a tip right before the race about how to take the corners).
Funny, when the race actually started – a weird, competitive thing overtook me. I actually had this thought: "I'm strapped in at five points. There is a huge roll bar all around me. I am probably not going to die tonight. So, I might as well try to win this race."
My adrenaline was pumping like crazy. I was near the back but passed about five buses. I spun out once but kept it going. A bus got hit so hard it had to be towed. Another bus dragged several cones around the track the whole time. Pastors were spinning out and colliding all over. I didn't win, but I didn't come in last.
When I exited the infield of the Speedway and joined my family, I exclaimed: "That was some of the greatest fun ever!"
What happened? What changed my fear to exhilaration? As soon as I decided that I was going to take some territory (er, beat the Methodist and Baptists pastors), I became engaged. When Paul gives us an assurance that we are heirs, it doesn't make us lazy sinners – it liberates us to run the race! I am the faster pastor and you are an heir– and that's the Gospel!
---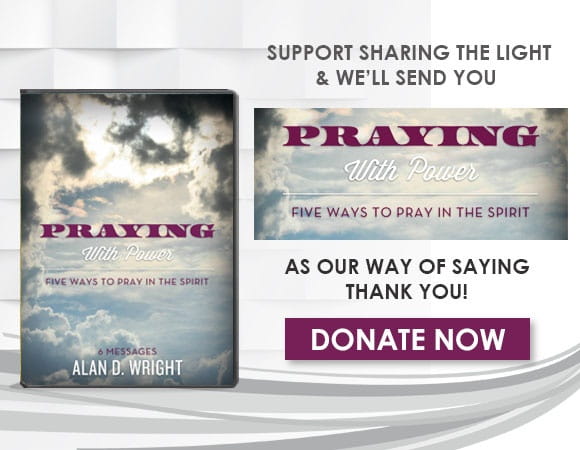 For more information please visit SharingtheLight.org.
Listen to the latest broadcast on OnePlace.com.