Who Am I? [Part 1]
Are you ready for some good news?
In Christ, your identity has been completely transformed.
There is neither Jew nor Greek, there is neither slave nor free, there is no male and female, for you are all one in Christ Jesus. - (Galatians 3:28 ESV)
I can't even describe how countercultural and revolutionary Galatians 3:28 was amongst Christians and Jews in the ancient provinces of Galatia.
There had emerged in the Greek world a regular practice by men of thanking the gods for allowing them to be born as human beings not beasts, Greeks, not barbarians, citizens, not slaves, and men, not women. By the middle of the 2nd century A.D., a rabbi had incorporated a similar pattern of benediction into morning prayers. "Blessed art thou, O Lord our God, King of the Universe who has not made me a foreigner, a slave, or a woman."
And in the face of that, Paul says, "There is neither Jew nor Greek, there is neither slave nor free, there is no male and female…."
There's something so radical that has taken place through the cross of Jesus Christ that it has erased any of the standards or means of outward expression or conformity of the flesh to anything that identifies who you are. Instead, a revolutionary exchange has taken place wherein you have become blessed while Jesus took the curse.
You are now identified by your union with Christ. Your past, your heritage, your gender, nor your race defines you. Others' curses, epithets or labels do not define you. Your failures, your folly nor your frailties define you. You are defined by God in Christ.
Every one who is in Christ has a new identity that transcends fleshly identities.
It's not to say that Paul is erasing all of our differences. The Bible celebrates our distinctiveness. I'm glad God made us individuals. The Bible celebrates our maleness or our femaleness. But we are utterly equal and united in Christ. In Christ, our distinct lives are celebrated in unity, not in uniformity. We are so different, yet we are one in Christ. This is glorious, world shaking, revolutionary truth. And that's the Gospel!
---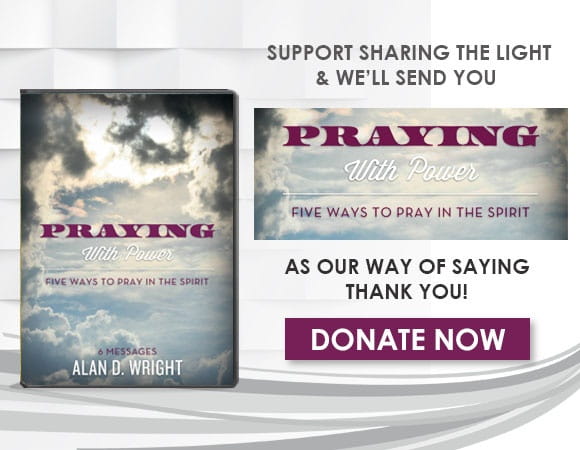 For more information please visit SharingtheLight.org.
Listen to the latest broadcast on OnePlace.com.