Life is Good! [Part 2]
Are you ready for some good news?
You can celebrate God's goodness in you everyday.
Today's Text: "And God saw that it was good." (Genesis 1:10, ESV)                       
After each day of creation, the Lord paused to celebrate what He had done. He wasn't finished creating. He had yet to complete His cosmos. He had yet to perfect His handiwork.
But He celebrated anyway.
You don't have to wait until you've finished, until you celebrate. If you wait until you've finished to rejoice, you won't be rejoicing much because most of day to day life is unfinished business.
I remember our son's first birthday. We put the birthday cake in front of him and he understood that it was his. What he didn't understand was that other people expected to share in his cake. Thus, when we cut it into slices, the boy began to weep. Realizing his confusion, we paused and just pushed the cake back to him. He put both hands into it, grabbed some good fistfuls, and decorated a good bit of his face with it as he enjoyed his first birthday cake. What fun.
Can you imagine us saying after that first celebration: "We celebrated your birthday when you were one. That was a good celebration, but no more." Or, imagine us saying, "When you have proven yourself fully, when you have graduated from college, have a good paying job and proven that you've turned out well, we'll celebrate."  What absurd thoughts. You don't wait until a child has grown up; you celebrate each year of life!
It's not that we have to award a child a trophy every time he or she completes a household chore, but the celebration of first steps is the fuel that energizes a child toward more steps.
In short, if the God of the Universe, the Creator of the ends of the earth, celebrated after each day of unfinished creation, how much more should we celebrate the goodness of God each step of our lives? You don't have to postpone celebrating the goodness of God in the land of the living. God's not finished with you yet, but what He's done so far is good – and that's worth celebrating. And that's the Gospel!
---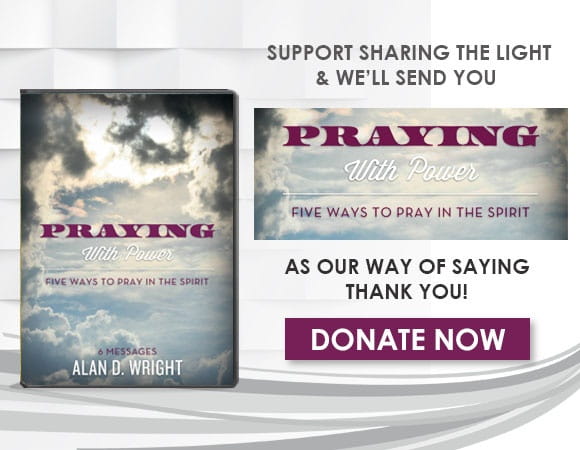 For more information please visit SharingtheLight.org.
Listen to the latest broadcast on OnePlace.com.