Bless the Lord [Part I]
Are you ready for some good news?
Not only can you bless others, you can bless God!
Today's Text: "Bless the Lord, O my soul, and all that is within me, bless his holy name!"
"Bless the Lord, O you his angels, you mighty ones who do his word, obeying the voice of his word! Bless the Lord, all his hosts, his ministers, who do his will! Bless the Lord, all his works, in all places of his dominion. Bless the Lord, O my soul!" (Psalm 103:1, 20–22, ESV)
I chuckled last year at one website's list of gifts for the man who has everything:
- a Himalayan salt block (really? Evidently it's a big block of salt you can put food on)
- colossal ice cub molds (for sure – I just can't stand small ice cubes)
- Pickle of the Month Club – (I'm not making this up, you get a different pickle every month – just what every guy wants)
Some people are hard to buy for because it seems they have everything.
Which raises today's big question: what in the world could we ever give God that He doesn't already have? The Lord made it all, owns it all, oversees it all, and claims it all. He is perfectly joyful, perfectly righteous, and perfectly fulfilled. There is nothing of which God says: "Boy, I wish I had one of those!"
How is it possible that limited creatures like us can actually give something to an all-sufficient God? How can we bless a God who is already infinitely blessed?
Here's one way: when you bless God, you cause God joy.
Yes, God is already infinitely joyful. But, in a real way, when you bless God, you add to His eternal joy.
All comparisons fall short, but you could think of it like this. Anne and I were married for ten years before we had children. We were so happy during our childless years. One summer during seminary we broke the piggy bank and went to Europe for over a month (that's the kind of thing you can do when you have no children and no dog). We enjoyed each other. We had joy before we had kids.
But then Bennett was born. That baby boy brought a joy into my life that I hadn't before known. But I thought you said you were already joyful? Yes, we were happy before Bennett ,but he added to our joy. And then, four years later, Abby was born. Our joy increased. We were happy and fulfilled without children but their presence in our lives has added to our joy.
This helps explain how an eternally joyful God can be caused joy by one sinner who repents or by one worshiper who lifts up His name. It is mind-bending, but the sure teaching of scripture, you can bless the Lord. And that's the Gospel!
---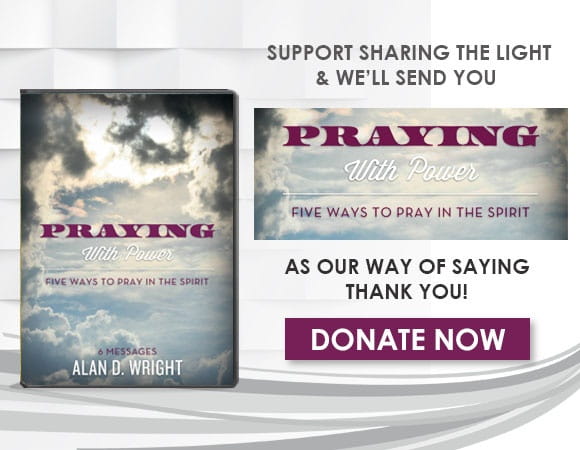 For more information please visit SharingtheLight.org.
Listen to the latest broadcast on OnePlace.com.