Rock Solid Reminders [Part 1]
Are you ready for some Good News?
You can mark your God moments in tangible ways that help you remember forever His amazing grace.
Today's Text: "When all the nation had finished passing over the Jordan, the Lord said to Joshua, "Take twelve men from the people, from each tribe a man, and command them, saying, 'Take twelve stones from here out of the midst of the Jordan, from the very place where the priests' feet stood firmly, and bring them over with you and lay them down in the place where you lodge tonight.' "" (Joshua 4:1–3, ESV)
Imagine hearing the dreaded words: "Your house is on fire! Quick, get out! You can only grab a couple items!"
Other than your family and your pets, what would you grab?
Interestingly, even in today's world of smart phones, cloud backups and Facebook postings, most people still say that they'd grab important old photographs. Others report that they'd grab personal items – mementos from trips or keepsakes or family heirlooms.
What do people desperately want to hold on to? – The mementos that remind us that we're blessed. We need the reminders that life is about relationships. If you visit the Grand Canyon and take 212 photos of the awe inspiring site, you get home and wonder why you snapped so many shots. The ones that matter the most to you aren't the beautiful panoramas of the canyon; you love the ones that have your loved ones in them.
My wife always wants a memento, a souvenir, from vacation spots. I always complain that they cost too much. We get them anyway and, later, I'm glad we did. In her defense, if I get to play a great golf course somewhere, I like to get a golf ball with the course logo on it. Don't you want to remember the special moments in your life so you can re-live them through the wonder of memory?
If it's important to keep reminders of happy moments or good vacations, how much more important is it to keep reminders of your God moments?!
Yesterday, my brothers and nieces and nephews gathered at my mother's for Christmas. You could almost hear the groan when it was announced, "Time for the annual family photo." Uggh. Setting up a tripod, trying to position everyone, getting the kids in the right places…. It's work to get a proper memento. But worth it.
When the Israelites passed through the Jordan River into the Promised Land, the Lord instructed them to gather twelve stones from the midst of the Jordan and set up a memorial so that they could one day tell their children how the Lord had opened up the river so the people could pass through. All our God moments deserve some rock solid reminders that help us never forget the glories of His grace. And that's the Gospel!
---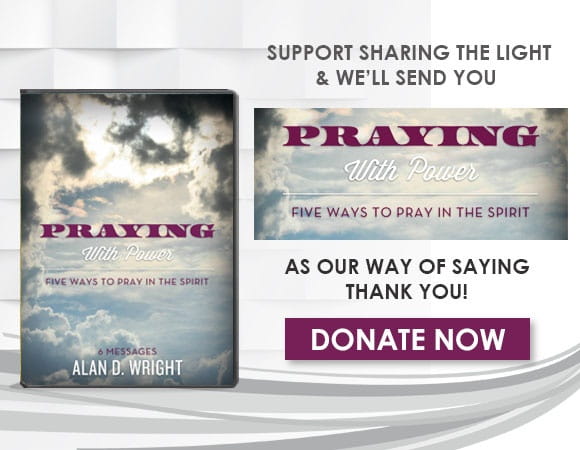 For more information please visit SharingtheLight.org.
Listen to the latest broadcast on OnePlace.com.