From Shifting Sand to Solid Rock [Part 2]
Are you ready for some Good News?
The blessing that Jesus spoke over Peter is God's blessing to you too!
Today's Text: "And Jesus answered him, "Blessed are you, Simon Bar-Jonah! For flesh and blood has not revealed this to you, but my Father who is in heaven. And I tell you, you are Peter, and on this rock I will build my church, and the gates of hell shall not prevail against it. I will give you the keys of the kingdom of heaven, and whatever you bind on earth shall be bound in heaven, and whatever you loose on earth shall be loosed in heaven."" (Matthew 16:17–19, ESV)
There is a noble, but futile, leaning in the hearts of Christians everywhere to launch the New Year with well-meaning resolutions of a more diligent walk with God. Our New Year's oaths are well-intentioned but powerless in the same way that our resolves to follow the law are noble but impotent.
With both symbolic significance and authentic power, we begin each New Year at our church not with exhortations to be better Christians but with a spoken blessing from the Word of God. In scripture, blessing has power to release individuals and peoples into God-given destinies. God blessed Adam and Eve before commanding them to be fruitful and multiply. The blessing of God isn't a reward for productivity; it is the fuel for it. The Hebrew patriarchs blessed their children and grandchildren in faith, speaking over them a positive vision with authority. The formula for spiritual growth in the Biblical narrative isn't children successfully pledging to be obedient (in fact, such is depicted as a formula for failure). Rather, the pattern for successful living is portrayed through the declarations of blessing over unproven recipients.
There is no greater example of such unmerited blessing than in the life of Simon, the fisherman whose life we will follow all month long. Simon was like shifting sand, but Jesus saw in him a Rock. When Jesus gave Simon the name Peter, the Lord was simply affirming the true destiny of the seemingly unstable man. The mark of Peter's life would mirror the mode of his transformation: he wasn't a model of obedience to God – he was a recipient of supernatural promise. In the natural, Peter would sink while walking on water, deny Jesus three times before the rooster's crow, and hide in fear while Jesus lay dead in the tomb. But, in the spirit, Peter was a rock, a victor, given the keys of the kingdom and authorized to represent Christ on earth.
That's who you are too. As you begin the New Year, focus less on what you can do for Jesus and focus more on what Jesus has done for you. Think less of your promises to God and think much more of God's promises to you. Hearken not unto your pledge to God but heed deeply God's pledge to you. Thus, you will be filled with the Spirit and embrace your true identity as a Rock, invincible in Christ and destined to change the world. That's who you really are. And that's the Gospel!
---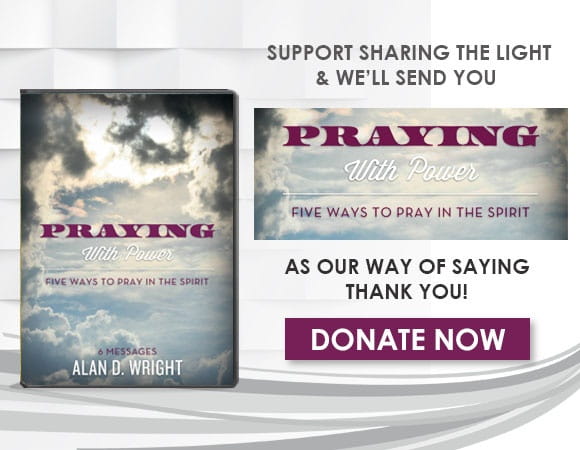 For more information please visit SharingtheLight.org.
Listen to the latest broadcast on OnePlace.com.