From Trusting In Your Promises to Trusting in God's Promises [Part 1]
Are you ready for some good news?
Our promises are important, but they aren't powerful. The power of the Christian life isn't found in our vows to God but in His vows to us!
Today's Text: "Peter answered him, "Though they all fall away because of you, I will never fall away." Jesus said to him, "Truly, I tell you, this very night, before the rooster crows, you will deny me three times." Peter said to him, "Even if I must die with you, I will not deny you!" And all the disciples said the same." (Matthew 26:33–35, ESV)
Peter was full of good intentions. He thought he could walk on water – for a while. Then, glub, glub, glub. You'll never wash my feet, he insisted until rebuked. At the transfiguration, he intended to build three nice huts – one for Moses, one for Elijah and one for Jesus. At Gethsemane, he pledged to pray for Jesus but fell asleep. At Jesus' arrest, he cut off a soldier's ear. Peter always wanted to do what was right.
Today's text should be read like this: "I will never, in no way, ever deny you!"
Peter's adamant vow was, of course, short-lived. He denied Jesus three times in one evening. In fact, a careful reading of the story unveils Peter ramping up his denial. At first, he acts like he's confused, ""But he denied it before them all, saying, "I do not know what you mean."" (Matthew 26:70, ESV) Then, we see him deny Jesus with an oath. Must have been Peter yelling something like: I swear I don't know the man! Next, Peter cursed and swore he didn't know Jesus. Some Greek scholars believe the language conveys the unthinkable: Peter cursed Jesus to try to make his denial sound more convincing.
The reason our vows to God don't work is the same reason the law holds no power. The law is good and righteous but does not equip anyone with real power for godly living. Thus, the law condemns because, with no Savior, we are guilty under the written code.
Pledging to love God and serve God and obey God doesn't lead to loving, serving and obeying God. The life of obedient, sacrificial, joyful discipleship comes instead by the amazing grace of Christ infusing our very being. Peter would one day preach the Pentecost sermon but it wasn't because he'd kept his promises to Jesus; it was because Jesus had kept His promises to Peter. Jesus had died and risen just like He'd said – that's what Peter preached about on Pentecost day. And that's the Gospel!
---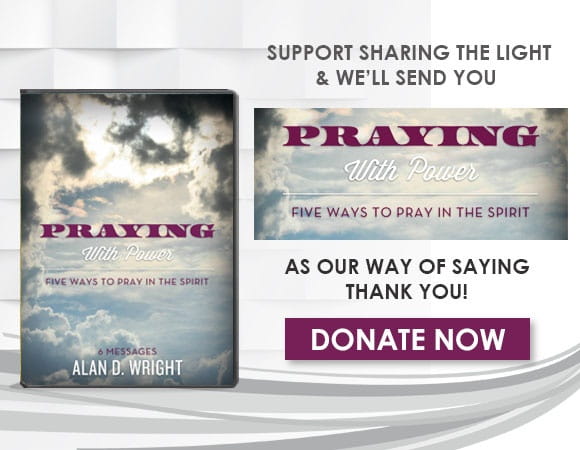 For more information please visit SharingtheLight.org.
Listen to the latest broadcast on OnePlace.com.