From Shifting Sand to Solid Rock [Part 1]
Are you ready for some Good News?
Though your New Year's resolutions hold no power, there is incredible power in God's resolutions about you!
Today's Text: "And Jesus answered him, "Blessed are you, Simon Bar-Jonah! For flesh and blood has not revealed this to you, but my Father who is in heaven. And I tell you, you are Peter, and on this rock I will build my church, and the gates of hell shall not prevail against it. I will give you the keys of the kingdom of heaven, and whatever you bind on earth shall be bound in heaven, and whatever you loose on earth shall be loosed in heaven."" (Matthew 16:17–19, ESV)
As we launch a new radio series today on the life of Peter, millions of well meaning souls around the world are launching into the New Year with heartfelt resolutions of better living. Vows to exercise more, eat healthier and, generally, sin less fill the atmosphere. For a few weeks, exercise gyms (and sometimes church pews!) will be full. But, as we all know, the enthusiasm is soon eroded by the mundane. Old patterns begin as the New Year's resolutions fall impotently to the dust.
Similarly, most Christians assume that spiritual progress stems from inward resolve. I'll read my Bible more. I'll pray more. I'll develop better character. But personal vows, no matter how well-intended, hold no power except the force of condemnation. The more we make oaths to be better followers of Christ, the more guilty we feel when we fail.
Never has there been a more sincere and diligent oath-maker than the fisherman named Peter. If you met him, I think you'd like him. He was fiery and winsome and inspiring. He could convince you to fly to the moon with him. But, as much as you'd like Peter, you'd be utterly frustrated with the well-intended Galilean. He, like all well-meaning vow-givers, failed regularly to keep his promises. He could walk on water one moment and sink the next. He could swear to never betray Jesus and deny him three times before sunup. He could be ready to fight for Jesus one minute and hide for fear of the Jews the next day.
But Jesus loved the simple fisherman named Simon. Jesus was the one who changed Simon's name to Peter. Simon was like shifting sand, but Jesus saw him to be a rock. The power of the Gospel is unleashed in your life not when you tell Jesus what you're going to do for Him; the power of the Gospel is released when you hear Jesus tell you what He's going to (and has already done) for you!
Peter believed Jesus to be the Christ and Jesus was overjoyed by the fisherman's faith. Jesus blessed Peter that day. Christ told the uneducated Galilean that he was a rock, a victor, a key bearer and a representative of God. As you begin the New Year, I hope you'll walk with us through the life of Peter every day and I hope, every day, you'll let your spirit stand at attention to the promises of God to you. Our lives are changed not by our promises to Jesus but by His promises to us. And that's the Gospel!
---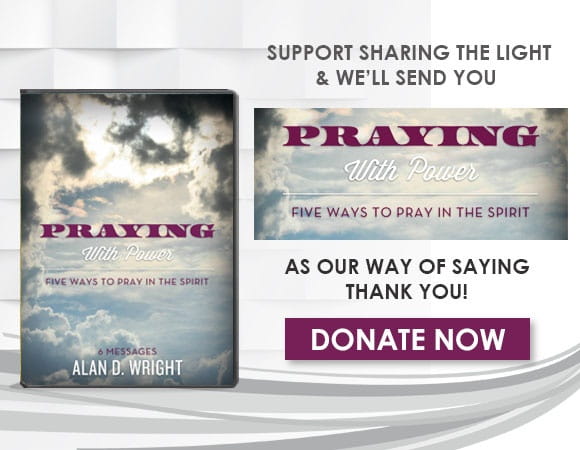 For more information please visit SharingtheLight.org.
Listen to the latest broadcast on OnePlace.com.