Healing the Unaffirmed Soul [Part 2]
Are you ready for some good news?
When others haven't affirmed your soul, it hurts; but discovering your infinite worth in Christ can heal the unaffirmed soul.
Today's Text: "Now Israel loved Joseph more than any other of his sons, because he was the son of his old age. And he made him a robe of many colors. But when his brothers saw that their father loved him more than all his brothers, they hated him and could not speak peacefully to him." (Genesis 37:3–4, ESV)
We're in an exceedingly important series called "The Power of Blessing" and today we return to a critical question: what do you do when you have missed the blessing of others?
When my family was besieged by my parents' separation, no one ever implied: "Alan, it's your fault." Such a thought would have been abhorrent to my parents. No one wanted me to feel like a discarded fourth grade boy. No one wanted me to take the blame. No one wanted me to feel abandoned.
But I did.
The child's soul is attacked and often deceived in the midst of family brokenness. Without the grace to open up, share the pain and be reassured, the child is left to sort out the pain on his/her own. I clammed up, hid from others, and tried to be a perfect child. Never realizing until much later in life that I was driven with a desire to repair a family that was already severed.
As we see in today's broadcast, Joseph's brothers were unaffirmed while Joseph was lavishly blessed. Jacob made a beautiful, ornate coat for Joseph and showered him with affection and praise. But the ten older brothers were left unblessed with no attention from their dad. Not knowing their own worth, the brothers try to bring Joseph down.
The unffirmed soul struggles to ever accept or celebrate another's well-being. Joseph's brothers, having no deep dream of their own, recoil in pain and jealousy.
But Joseph, the blessed son, faces slavery, poverty, false accusation and unjust imprisonment with hope and faith. Joseph's outlook compared to his brothers highlights the massive difference between the affirmed and the unaffirmed soul.
When we discover that we are accepted in Christ, changes begin to happen. Part of our repentance (changing our minds) is simply accepting a new identity. We become aware that, though unaffirmed by our biological family, we are profoundly, eternally affirmed in the family of God. Though truly guilty from our birth, we are washed by Christ and reckoned righteous. As we accept the price that was paid for us we begin to believe that we are worth an unimaginable sum and our souls begin to align with the truth of our value. When you are in Christ, you are ultimately, eternally affirmed and that changes everything. And that's the Gospel!
---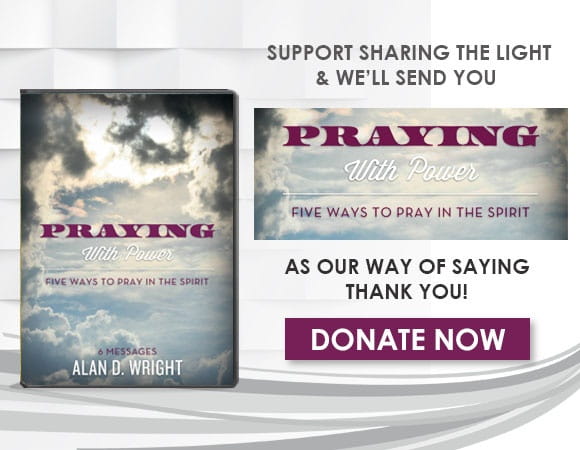 For more information please visit SharingtheLight.org.
Listen to the latest broadcast on OnePlace.com.