The Ephraim and Manasseh Blessing [Part 1]
Are you ready for some good news?
Jesus took the curse you deserved so that you could receive the blessing that He deserved.
Today's Text: "Joseph said to his father, "They are my sons, whom God has given me here." And he said, "Bring them to me, please, that I may bless them."" - (Genesis 48:9, ESV)
When Joseph learned that his father was nearing death, he rushed his sons to Jacob's deathbed. Why? So the boys could say "good bye" to their grandfather? No. Joseph hurried to his father's bed because he desperately longed for Jacob to bless the boys. Much of the Old Testament narrative hinges upon an unseen power that is simply called "blessing."
That's why "The Power of Blessing" is arguably the most important Gospel revelation that I've ever apprehended and applied in my daily life. Practicing blessing has transformed the way I relate to my wife, the way I parent and the way I pastor.
In the beginning God blessed Adam and Eve and then exhorted them to be fruitful and multiply. The order of those events is at the heart of the Gospel. For much of my life I believed just the opposite. I presumed that if I would be fruitful (live a good, noble, spiritual life for the cause of Christ) then God would really bless me. But in God's economy, the blessing goes first. In the kingdom of God, blessing is not a reward for productivity; it is the fuel for it.
When our daughter Abby was two years old, I began blessing her while at the dinner table:
"Abby, you are so sweet and so cute. You are so pretty. I think you are the most wonderful little girl in the whole wide world."
She was like a little cup filling up until finally she overflowed by turning to my wife and blurting out: "I love you Mommy!"
What was happening to the cute little girl? Though too young to articulate or analyze it, Abby blessed her mother because she felt so blessed.
To bless someone is to envision a positive future over his or her life and speak it with faith in accord with God's word. But the blessing isn't merely encouragement – it's spiritual power mystically released. To bless someone certainly isn't magic and it isn't a guarantee of a certain result, but it is a God-given means of empowering someone for growth and transformation. When you are in Christ, you're not only blessed with every spiritual blessing in Christ, you're also authorized to bless others in His name. And that's the Gospel!
---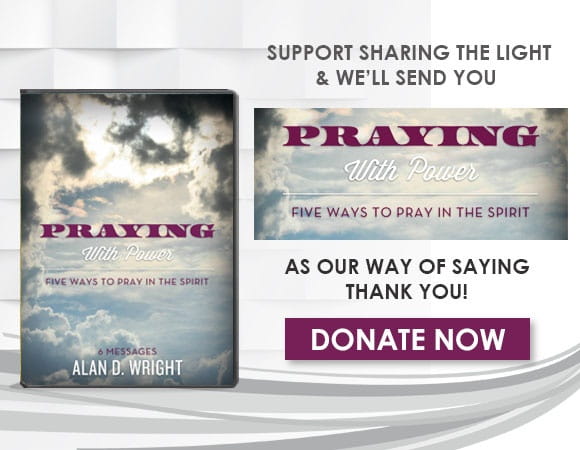 For more information please visit SharingtheLight.org.
Listen to the latest broadcast on OnePlace.com.