Son of David [Part 3]
Are you ready for some good news?
David wanted to build God a house, but God wanted to build David a house. The Christian Gospel isn't good news because of what you build for God; it's good news because of what God has built for you in Christ.
Text: ". And I will give you rest from all your enemies. Moreover, the Lord declares to you that the Lord will make you a house." (2 Samuel 7:11, ESV)
Once David was established on the throne of Israel, he was grateful and noble and wanted to do something for God.
The tent of meeting had been around for a long time and David thought it wrong for the presence of God to be confined to an old, moldy mobile tent, so he wanted to build God a house.
You might expect God to say, "Wonderful! Finally a righteous king cares about my Lordship and wants to do something glorious for me." But, instead, the Lord tells David no. Instead, in a beautiful prefiguring of the gospel, the Lord says essentially, "I don't want you to build me a house – I want to build you a house."
Every world religion is built on the assumption that if you do something wonderful for God then He will do something wonderful for you. The Christian gospel is exactly the opposite. It's all about what God has done for you in Christ.
God has made a house for you by appointing a place for you in the royal family forever. Like David, you have been set apart, anointed and blessed by God to reign in His Kingdom. Furthermore, God has made a house in you by taking up permanent residence in your heart. In Christ, you are God's house, the temple of the Holy Spirit. He is with you now, moving with you into your future
Because God is the builder of the house, you can rest from all strife and be assured that the Lord is building something in and through you that is bigger and more far-reaching than you can now see. God's promise to build David a "house" has come to pass in Christ. The promise has been incarnated in you, the believer, because you are the house of God. And that's the Gospel!
---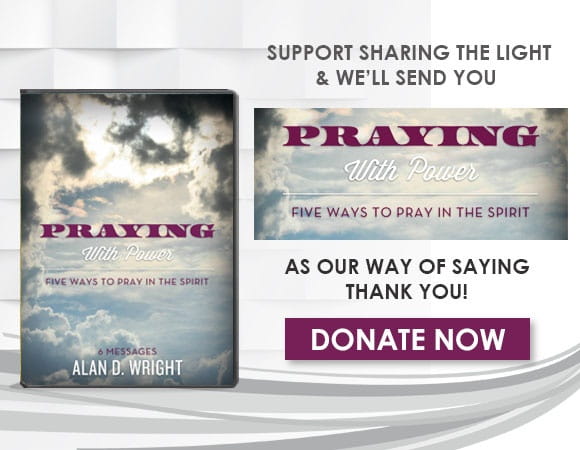 For more information please visit SharingtheLight.org.
Listen to the latest broadcast on OnePlace.com.