You're Alive in Christ [Part 1]
Are you ready for some good news?
When you really encounter the Gospel, your soul breaks out in celebration!
Today's Text: "But God, being rich in mercy, because of the great love with which he loved us, even when we were dead in our trespasses, made us alive together with Christ…." (Ephesians 2:4–5, ESV)
"There's a problem. Your airplane has been delayed. On the island, a huge…."
Those are the words I heard five years ago after my daughter and I had been on five planes. Raleigh to Los Angeles, LA to Sydney, Australia, Sydney to Brisbane, Brisbane to Port Moresby, Papua New Guinea and Port Moresby to Ukarumpa in the Eastern Highlands of PNG.  All we needed was one more little flight. One more 45-minute flight in the missionary plane to the little island off the coast of the Papua New Guinea in the Madang Province. Just one more flight and we will have made it to the big party. But suddenly, it was all in question as the aviation manager joined us by the dirt runway with a sober face saying, "… a huge…."
We had travelled around the world because my daughter and I felt called to join our Wycliffe missionaries, Jeff and Sissie D'Jernes, for a big party celebrating the completion of the New Testament in the Arop-Lokep language. Our church has been supporting the D'Jernes for two and half decades as they moved to a fifteen-mile wide island in Papua New Guinea in order to befriend a people group who had no Bible. In fact, they had no written language. So, for 27 years Jeff and Sissie had labored to put the language into writing, translate the New Testament, and teach the people to read. The Arop-Lokep people had been preparing for over a year –growing gardens and raising pigs for a big feast. What better party to attend than a people getting their first ever Bible?
So there we were at the missionary aviation headquarters in the Eastern highlands of Papua New Guinea awaiting one more plane ride. We'd spent about 35 hours in airports and planes to get to this point only to hear the man say, "There's a problem. On the island, a huge…."
Ever notice that your mind can race to about a thousand places in less than a second? My mind went berserk. A huge what? A huge storm? A huge tidal wave? A huge crash? A huge engine failure? A huge revolt? What huge thing could possibly be delaying our plane?
Never, in a million years, could I have guessed how the aviation manager would fill in the blank.
"Your flight is going to be delayed. On the island, a huge celebration has broken out at the grass runway. The local people have gathered by the hundreds and are dancing and celebrating around the plane so much that the pilots think it will take at least thirty minutes to clear the runway so they can take off and come get you."
The Bible had arrived to their island and a holy riot had broken out. They had no cars, no electricity, no bank accounts, and no houses. But they had more life than most people I meet in a day in my own prosperous country. Jesus makes you alive on the inside. And that's the Gospel!
---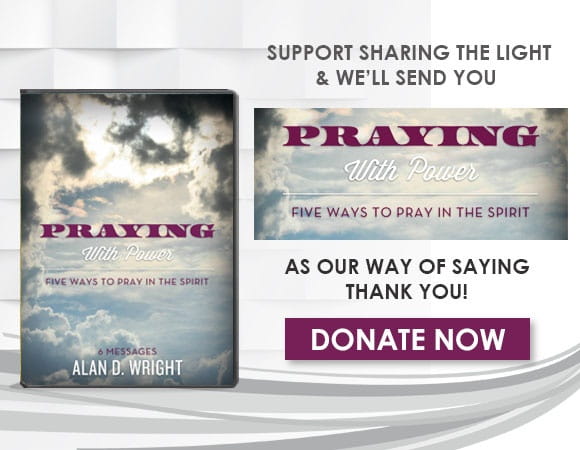 For more information please visit SharingtheLight.org.
Listen to the latest broadcast on OnePlace.com.