You're New [Part 2]
Are you ready for some good news?
You have been clothed with the righteousness of Christ.
Today's Text: "… to put off your old self, which belongs to your former manner of life and is corrupt through deceitful desires, and to be renewed in the spirit of your minds, and to put on the new self, created after the likeness of God in true righteousness and holiness." (Ephesians 4:22–24, ESV)
I read a father's blog recently in which he told of a funny day in which his son went to kindergarten wearing two pairs of underwear. Evidently, in his haste that morning, the boy remembered to put on a new pair of underwear but forgot to take off the old!
If you're going to enjoy wearing something fresh and clean, you'll only enjoy its benefit if you take off the old first!  In Ephesians 4, Paul shifts his rhetoric to the attitudes and behaviors of the Christian by using the image of new clothing. As a Christian, you are not redeemed by the sort of spiritual clothing you wear; instead, you are entitled to it.
When Paul says you have "put off the old man," he's not referring to an assortment of your various sins. He's referring to the old man you were born into – the first Adam, who sinned and therefore, because he was the father of all, caused all to be born in sin. And when he says put on the new man – he's referring to the new man, Jesus Christ. Jesus, the second Adam, hasn't just invited you to the kingdom banquet; He has provided the proper clothing. It isn't a particular set of virtues – the clothing is Himself.
He has clothed you with His own righteousness. He has cloaked you in His spotless attire. You have put on the righteousness of Christ – you have become His righteousness. Therefore, let the spirit of your mind be continually renewed to conform to the new you. Wake up in the morning and, instead of telling yourself, "Try harder to be a better person today," tell yourself, "I have been clothed with the Spirit of Jesus Himself. I am covered fully, finally, beautifully, royally, forever." And that's the gospel!
---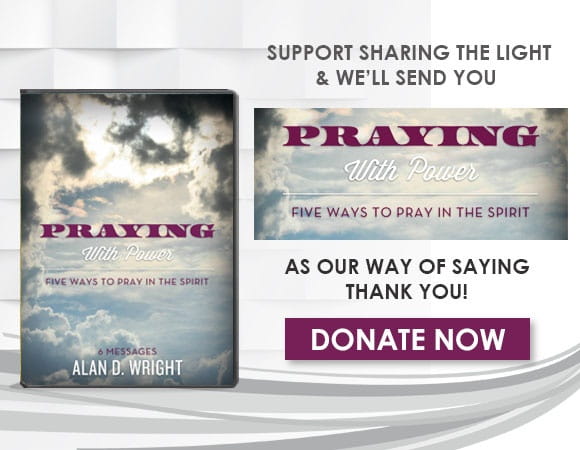 For more information please visit SharingtheLight.org.
Listen to the latest broadcast on OnePlace.com.