You're New [Part 1]
Are you ready for some good news?
God hasn't left you naked and ashamed in your sin – He has made a whole new suit of clothes for you that fits the new you perfectly.
Today's Text: "I therefore, a prisoner for the Lord, urge you to walk in a manner worthy of the calling to which you have been called," (Ephesians 4:1, ESV)
Our study of Ephesians has, for three chapters, made us soar with Paul in exclamations of Christ's cosmic, saving work that has established us as a forgiven, redeemed, holy, called people who are seated with Christ.  He affirms that we are the dwelling place of God and beloved heirs of unsearchable riches. For three full chapters, in what Coleridge called the divinest composition of man, Paul has written of nothing but the sublime and majestic redemptive accomplishment of Christ – not one single word about how Christians should live. Not until chapter 4 does Paul even venture into the territory of what this all means for us in terms of our thoughts and behaviors in this world.
The epistle hinges at the beginning of chapter 4 with "I, therefore, urge you…."
Most non-Christians think Christianity is centered around the "oughts" and "shoulds." Right attitudes and right behavior really matter, but they are not primary in Christianity; they are byproducts of the power of the gospel of grace. To proclaim grace, as Paul does and as I aim to do every week, is not to suggest that changing your attitudes and behaviors is unimportant. Quite the contrary. The gospel of grace is so powerful that Paul is saying it changes everything.
The problem of legalism is that it changes us too little. Paul says that the gospel of grace is so powerful that it leads us to put on a whole new self. It changes our very nature – not just a few behaviors, but our deepest motivations that shape all our thoughts and actions.
You have been made new! Therefore, it is appropriate for you to wear a new suit of clothes that fits you properly. And that's the gospel!
---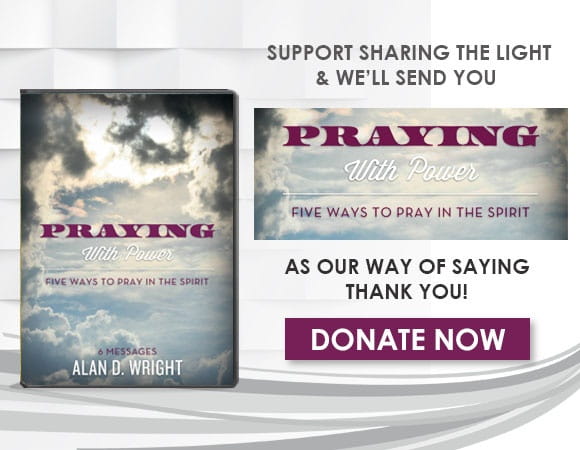 For more information please visit SharingtheLight.org.
Listen to the latest broadcast on OnePlace.com.