You're Seated with Christ [Part 1]
Are you ready for some good news?
In Christ, you have the best seat in the house!
Today's Text: "…"and raised us up with him and seated us with him in the heavenly places in Christ Jesus, so that in the coming ages he might show the immeasurable riches of his grace in kindness toward us in Christ Jesus." (Ephesians 2:6–7, ESV)
When I was a kid, my best buddy was a ball boy at the Greensboro Coliseum for the ACC tournament. He sat under the basket and mopped up sweat when the players fell on the court. This was during the days that winning the ACC tournament was the only way a team could qualify for the NCAA tournament. It was all on the line. It was the biggest, greatest sporting event in our area.
One year, my friend's dad said, "Alan, just put on some white pants and a blue shirt and walk in the back door of the Coliseum with us. No one will ever know you aren't an official ball boy." So I did! What a thrill. The basketball heroes of my youth playing right in front me! But, I was a nervous wreck because I had attained my seat "illegally."
I sat on the floor of the Coliseum, but I was so worried about being exposed as a fraud that I could hardly enjoy the game. "When is someone going to recognize that I'm an imposter?" I wondered.I was just waiting to be removed from the premises! Thankfully, I faked my way through the whole tournament successfully.
For fullness of joy, you not only need a good seat; you also need to know that you are truly authorized to sit in it.
You've been given a seat with Christ in the heavenlies. It means that you have a new position in the cosmos. It's a position of authority, privilege and joy. And here's the good news: it's really your seat. You belong there. You're not faking it and no one can remove you from the premises. You're seated with Christ. And that's the gospel!
---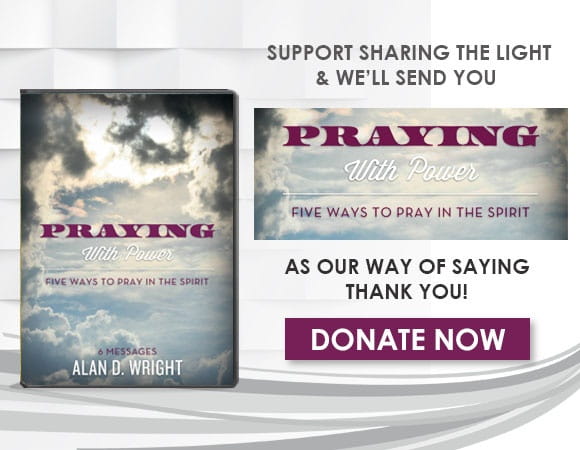 For more information please visit SharingtheLight.org.
Listen to the latest broadcast on OnePlace.com.