Give it Up

by Berni Dymet

Matt. 26:39 And going a little farther, he threw himself on the ground and prayed, "My Father, if it is possible, let this cup pass from me; yet not what I want but what you want."

There have been things in life from time to time that I've really wanted to hang on to, my house for instance. I absolutely love it - but I thought: It's a gift from God. I really love living here in this place. But if God asked me to give it up - would I give it up?

That was such an uncomfortable question I have to tell you, because I really wanted to hang onto this house.  But I realized that if I put the house before God, I was putting something else before Him.
 
Can I be honest - it's something I struggled with and prayed over and thought about - and I decided that if God ever asked me to move from that house - I'd give it up for Him.

He did. And with His help, by His grace - I have. He taught me that even though sometimes I want things this way, or that way - that it's His way, His way that's the best of all.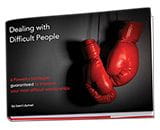 Get a Free eBook from Berni Dymet, Dealing with Difficult People. This timely and relevant eBook contains 6 powerful principles guaranteed to improve your most difficult relationships. And you can download it FREE, right now.