Number 700
by Berni Dymet
Luke 10:27 He answered, "You shall love the Lord your God with all your heart, and with all your soul, and with all your strength, and with all your mind; and your neighbor as yourself."
Now – believe it or not – this is the 700th of these short little radio spots that I've recorded. Seven hundred! I mean it's hard to believe. How can one guy talk so much about something that's so simple?
And if I had to boil all those seven hundred down into one 60 second, 1 minute spot – everything I've jabbered on about over however many years – what would that one point be? 
Well – Jesus had a better way of saying it than I ever could. 
Some young lawyer asked Him – how He would summarize the whole of the Old Testament law – in His case that meant summarizing 613 commandments and prohibitions in the Jewish law. What was His executive summary? 
He said, "You shall love the Lord your God with all your heart, and with all your soul, and with all your strength, and with all your mind; and your neighbor as yourself."(Luke 10:27)
Pretty good don't you think? I couldn't say it any better than that!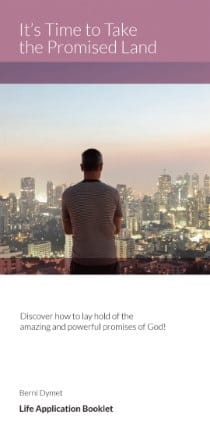 YOUR FREE BOOKLET – IT'S TIME TO TAKE THE PROMISED LAND
So many things in this world promise so much … and yet, so often, they fail to deliver. God's promises, on the other hand, never fail. Well … we know that in theory and yet, too many of those who believe in Jesus, somehow don't quite seem to manage to lay hold of God's promises in practice. How exactly do you live in the promises of God? Well, that's what our latest Life Application Booklet is all about: It's Time to Take the Promised Land.