Fellowship

by Berni Dymet
Acts 2:42 They devoted themselves to the apostles' teaching and fellowship, to the breaking of bread and the prayers.
Just as I was about to prepare this short message at my computer - the head of our African ministry Joseph Kebbie popped up on Skype. Hadn't spoken with him in a while - and I love chatting with him.
But at the same time - I'm in the middle of preparing programs and I'm an outcome-oriented kind of guy. I have a plan - finish the scripts by a certain time, head off to the studio to record by a certain time. 
But here's the thing. Sometimes, sometimes the schedule needs to take a back seat. Joseph's out there in Ghana doing amazing things across Africa: but largely on his own. He needs my encouragement and he needs my support - and you know something, I needed to hear his voice too.
Life's busy these days. It just is … for everyone … so much to do. And what suffer are relationships. What suffers is getting together and chatting and having fellowship and having coffee. 
You know what - relationships matter. And once I'd spoken to Joseph - I guess I was ready to chat with you.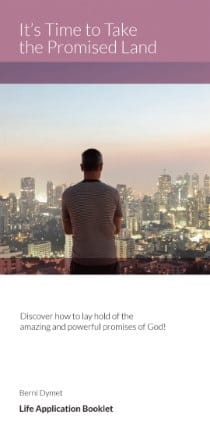 YOUR FREE BOOKLET – IT'S TIME TO TAKE THE PROMISED LAND
So many things in this world promise so much … and yet, so often, they fail to deliver. God's promises, on the other hand, never fail. Well … we know that in theory and yet, too many of those who believe in Jesus, somehow don't quite seem to manage to lay hold of God's promises in practice. How exactly do you live in the promises of God? Well, that's what our latest Life Application Booklet is all about: It's Time to Take the Promised Land.