God has a great purpose and plan for your family. Whether biologically or through adoption, the family unit was God's idea from the beginning. The very first Bible verses about family are found in Genesis during the creation story. God created the family on purpose to steward the earth, work together, display His characteristics, grow in relationship with Him, and to bring Him glory.
You may not always feel like loving your family, but it can be the proving ground for displaying the fruits of the Spirit. Learning to show kindness, practice patience, and forgive hurt within your family is essential for spiritual growth. God can heal any relationship and restore joy between family members!
Whether you are looking for an encouraging Bible verse to share with your family to tell them how much you love them or you are seeking wisdom from Scripture on how to respond to a difficult family member, the collection of verses below will provide inspiration and guidance. Meditate on these Bible verses about family and say a prayer for your family today! God wants nothing more for your family than to bring you into a deeper joy-filled, loving relationship with Himself and each other.
Bible Verses About Family
"So God created man in his own image, in the image of God he created him; male and female he created them. And God blessed them. And God said to them, "Be fruitful and multiply and fill the earth and subdue it, and have dominion over the fish of the sea and over the birds of the heavens and over every living thing that moves on the earth." - Gen 1:27-18
"Honor your father and your mother, that your days may be long in the land that the Lord your God is giving you." - Exodus 20:12
"Husbands, love your wives, just as Christ loved the church and gave himself up for her." - Ephesians 5:25
"Fathers, do not embitter your children, or they will become discouraged." Colossians 3:21
"Children's children are a crown to the aged, and parents are the pride of their children." - Proverbs 17:6
Train up a child in the way he should go; even when he is old he will not depart from it. - Proverbs 22:6
"Children, obey your parents in everything, for this pleases the Lord." Colossians 3:20
"But if anyone does not provide for his relatives, and especially for members of his household, he has denied the faith and is worse than an unbeliever." - 1 Timothy 5:8
"And if it is evil in your eyes to serve the Lord, choose this day whom you will serve, whether the gods your fathers served in the region beyond the River, or the gods of the Amorites in whose land you dwell. But as for me and my house, we will serve the Lord." - Joshua 24:15
"Children, obey your parents in the Lord, for this is right. "Honor your father and mother" (this is the first commandment with a promise), "that it may go well with you and that you may live long in the land." Fathers, do not provoke your children to anger, but bring them up in the discipline and instruction of the Lord." - Ephesians 6:1-4
"Therefore a man shall leave his father and his mother and hold fast to his wife, and they shall become one flesh." - Genesis 2:24
"Behold, children are a heritage from the Lord, the fruit of the womb a reward. Like arrows in the hand of a warrior are the children of one's youth. Blessed is the man who fills his quiver with them! He shall not be put to shame when he speaks with his enemies in the gate." - Psalm 127:3-5
"For this reason I bow my knees before the Father, from whom every family in heaven and on earth is named" - Ephesians 3:14-15
"My son, keep your father's commandment, and forsake not your mother's teaching." - Proverbs 6:20
"A wise son makes a glad father, but a foolish man despises his mother." - Proverbs 15:20
"And these words that I command you today shall be on your heart. You shall teach them diligently to your children, and shall talk of them when you sit in your house, and when you walk by the way, and when you lie down, and when you rise." - Deuteronomy 6-6-7
Bible Verses About Family Love
"Love is patient, love is kind. It does not envy, it does not boast, it is not proud. It does not dishonor others, it is not self-seeking, it is not easily angered, it keeps no record of wrongs. Love does not delight in evil but rejoices with the truth. It always protects, always trusts, always hopes, always perseveres. Love never fails." - 1 Corinthians 13:4-8
"Let love be genuine. Abhor what is evil; hold fast to what is good." - Romans 12:9
"We love because he first loved us." – 1 John 4:19
"Above all, keep loving one another earnestly, since love covers a multitude of sins." - 1 Peter 4:8
"So now faith, hope, and love abide, these three; but the greatest of these is love." - 1 Corinthians 13:13
"This is my commandment, that you love one another as I have loved you. Greater love has no one than this, that someone lay down his life for his friends. You are my friends if you do what I command you. No longer do I call you servants, for the servant does not know what his master is doing; but I have called you friends, for all that I have heard from my Father I have made known to you. You did not choose me, but I chose you and appointed you that you should go and bear fruit and that your fruit should abide, so that whatever you ask the Father in my name, he may give it to you" - John 15:12-17
"Those who say, 'I love God' and hate their brothers or sisters are liars. After all, those who don't love their brothers or sisters whom they have seen can hardly love God whom they have not seen!" - 1 John 4:20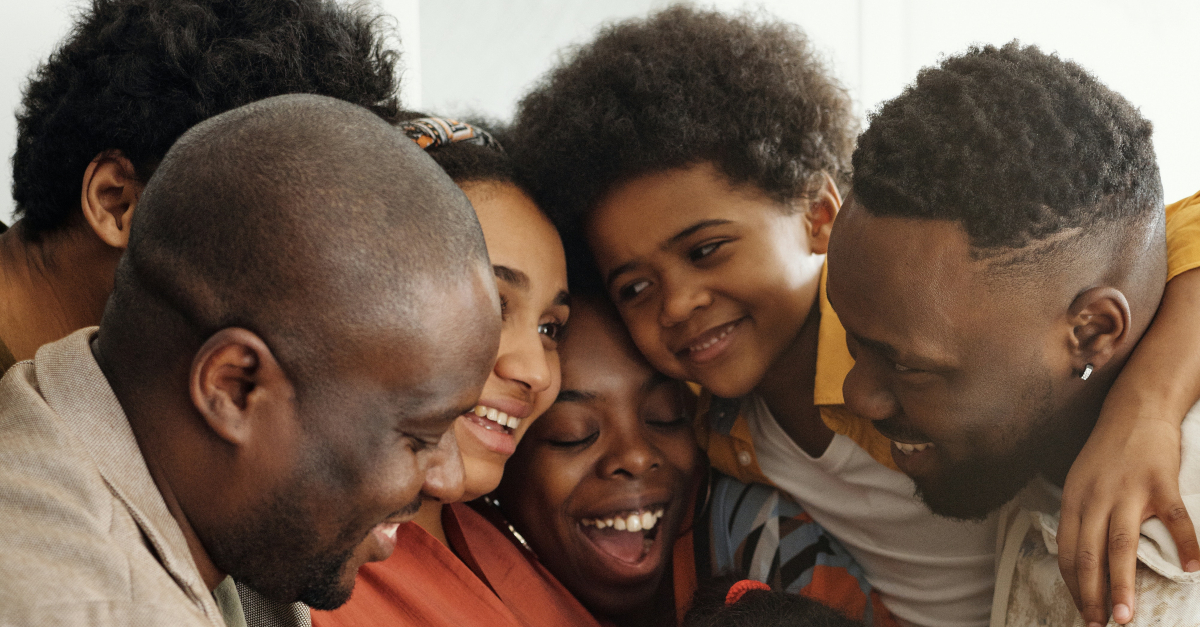 Bible Verses For Family Strength and Comfort
"God is our refuge and strength, a helper who is always found in times of trouble." - Psalm 46:1
"The Lord is near to those who are discouraged; he saves those who have lost all hope. Good people suffer many troubles, but the Lord saves them from them all." –-Psalm 34:18-19
"As a mother comforts her child, so will I comfort you; and you will be comforted over Jerusalem." - Isaiah 66:13
"You, LORD, hear the desire of the afflicted; you encourage them, and you listen to their cry." - Psalm 10:17
"He heals the brokenhearted and binds up their wounds." - Psalm 147:3
But the steadfast love of the Lord is from everlasting to everlasting on those who fear him, and his righteousness to children's children, to those who keep his covenant and remember to do his commandments. - Psalm 103 17-18
Bible Verses For Peace and Unity in Family Conflict
"Bear with one another and, if one has a complaint against another, forgive each other; as the Lord has forgiven you, so you also must forgive." - Colossians 3:13
"How good and pleasant it is when God's people live together in unity!" - Psalm 133:1
"And as you wish that others would do to you, do so to them." - Luke 6:31
"If it is possible, as far as it depends on you, live at peace with everyone." - Romans 12:18
"Let the peace of Christ rule in your hearts, since as members of one body you were called to peace. And be thankful." - Colossians 3:15
"Do not repay anyone evil for evil. Carefully consider what is right in the eyes of everybody." - Romans 12:17
"Behold, how good and pleasant it is when brothers dwell in unity!" - Psalm 133:1
"Whoever is greedy for unjust gain troubles his own household, but he who hates bribes will live." - Proverbs 15:27
"I therefore, a prisoner for the Lord, urge you to walk in a manner worthy of the calling to which you have been called, 2 with all humility and gentleness, with patience, bearing with one another in love, 3 eager to maintain the unity of the Spirit in the bond of peace." Ephesians 4:1-3
Photo Credit:@GettyImages/Sam Edwards
Additional Family Resources
Below you will find some of our favorite broadcasts and resources for your family from our ministry partners.
Speaking the Truth in Love to Teens