November 8
Therefore, having been justified by faith, we have peace with God through our Lord Jesus Christ, through whom also we have obtained our introduction by faith into this grace in which we stand; and we exult in hope of the glory of God. - Romans 5:1-2
Prior to being reconciled—or "made one with"—God, we are at war, "enmity," with Him (Romans 8:7; James 4:4 . When peace is established, war is over. Jesus gives us peace with God, ending our state of enmity against Him. "I've made my peace with God," some say as they contemplate death. But humans don't establish that peace. An armistice in which no one wins is not true peace. Peace comes when there is a victor. Jesus conquered the enmity at the cross, and reconciled us to the Father. We are at peace with Him in Christ.
Click here to sign up for your free Winning Walk newsletter!
---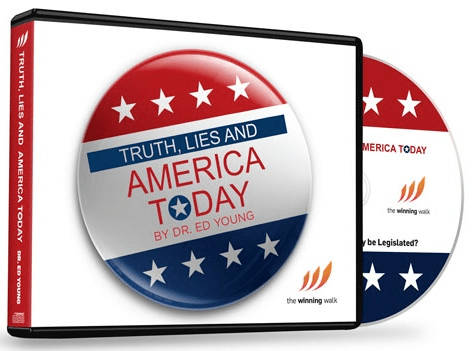 We've been told lies as a society, and many of us – even believers – have come to accept them as truth.
 
Dr. Ed Young exposes many of these lies in his 3-message CD series 'Truth, Lies, and America Today.'

You'll hear about steps you can take to:
       •Reestablish God's truth in your home and community
       •Rebuild our nation's moral foundation
       •Restore hope for future generations  

'Truth, Lies, and America Today' is our gift to thank you for your first monthly gift as a Winning Walk Pacesetter.
 
The faithful support of Pacesetters is crucial for helping proclaim proven truth on radio, television, and the internet – so please prayerfully consider becoming a Pacesetter today.
 
When you do, we'll send you 'Truth, Lies, and America Today' to help stand against the lies of our culture with the proven truth of God's Word.
 
We're so grateful for your partnership!