Living in a Place Called Repentance
"Repent therefore, and turn again, that your sins may be blotted out, that times of refreshing may come from the presence of the Lord"(Acts 3:19–20, ESV).
The term most frequently used in the New Testament for real change and thinking differently is the Greek word metanoia. It's the word for repentance. At its core, repentance is a recognition of sin followed by heartfelt sorrow culminating in a change of behavior.
Repentance is not a place we merely visit, loved one; repentance needs to be where we live. James 3:2 says,"We all stumble in many ways," so you can't just drop in on repentance and then get over it. 
I've had to be broken, stretched, challenged, and changed—and I don't want to get over it. I want to stay right in that place, and I invite you to join me there.
Why? Because repentance is a life-giving thing. It's the cry in the mouth of almost every one of God's messengers in the Bible. They were all calling on God's people to repent. And not just once in a while or tangentially. "Repent!" was often the whole message. When John the Baptist showed up, what was his message?"Repent" (Matthew 3:2a). Then the early church preserved the pattern:"Repent therefore, and turn again, that your sins may be blotted out, that times of refreshing may come from the presence of the Lord."
If you're not living in repentance, does the following line of thinking sound familiar to you? You know, I've gradually gotten to this place where my walk with God has become kind of formulaic. My heart's a bit hard. I'm going through the motions and it doesn't bother me anymore not to talk to others about Jesus. My Bible's been sitting on the table, unopened between trips to church.
What's going to change that dull and dreary mindset? Listen to Acts 3:19–20! It's that recognition of sin followed by heartfelt sorrow culminating in a change of behavior. Notice the promise of "times of refreshing" God longs to give us. Right at this moment, the storerooms of heaven are bursting with the mercy God longs to shower upon you if you would just meet the conditions that He prescribes to us. Repent!
This turning is simple, but it isn't easy or quick. In fact, your personal awareness of the need to repent right now has a lot to say about your relationship with God, because only He can bring you to the place of contrition and change.
Paul told Timothy that an effective servant of God would be "correcting his opponents with gentleness. God may perhaps grant them repentance leading to a knowledge of the truth" (2 Timothy 2:25). So please heed this gentle urging: only God's Spirit can pierce your defenses with repentance. If that's happening in this moment, don't turn away or put things off! Humble yourself before your heavenly Father, name and confess the sins, then ask for forgiveness in Jesus' name. Don't hurry, but wait for God to point out what needs to change. Your soul and relationship with Him will start to fill with the refreshment that only comes by way of repentance.
Journal
What is simple and what is hard about repentance? Why do you need God's help in repenting?
Do you find yourself repenting seldom if at all, or would you say it's where you live—that it's the ongoing posture of your heart?
Pray
Lord, thank You for speaking to me by Your Word. I am pierced by the thought that anything in me would resist those moments when You grant me repentance and open my eyes to the truth. I want to experience life deep in Your presence. I want to be ever open to Your correction, longing for the awareness of my unworthiness that draws me to You. Create in me a clean heart, O Lord; whatever it takes. I ask You this in Jesus' name, amen.
For more from Dr. James MacDonald please visit Walk in the Word on OnePlace.com. 
---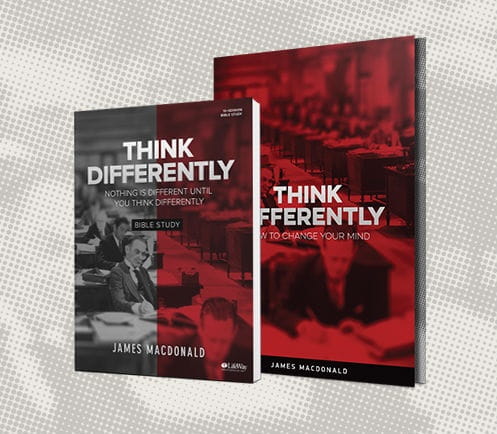 All of us have areas of our life that we'd like to change. Maybe it's your marriage, your business, or your relationship with God. But if we all want to change, why is it so hard? You see, it's not about yelling louder, trying harder, or being filled with condemnation. It's all about getting the right mindset, a Godly mindset. And when that happens, long-lasting transformation follows! 
Friend, change is not dependent on trying harder. Real change comes when you choose to embrace a Godly mindset, because the way you think affects everything. I want to invite you to request the resources below so that you may experience the victory of lasting change in your life, beginning today.   
—James MacDonald 
Request this offer with your gift of any amount to the ministry of Walk in the Word.