Awakening Love
I adjure you, O daughters of Jerusalem, that you do not stir up or awaken love until it pleases (Song of Solomon 8:4, esv).
But why?
Why does God insist on our being married before we can pursue intimate, sexual experiences with someone we love? Does marriage magically flip a switch that causes eros to go from being forbidden and wrong, to being encouraged and celebrated? (Eros is my preferred term for sex. It's the Greek word describing the physical, affectionate, intimate relationship between a man and a woman.) 
Most people's plan for how to make their sexual decisions in life is . . . not to have a plan. When the opportunity arises, when the conditions are right, when the person seems special enough, it'll just happen. Natural as breathing. But that's not God's plan. Eros has a right time and a righteous place.
So why does the context of eros matter so much?
1) Because God says so. Again and again in the Bible, we're told this in words similar to these, "Sexual immorality and all impurity or covetousness must not even be named among you, as is proper among saints" (Ephesians 5:3). "Put to death therefore what is earthly in you: sexual immorality, impurity, passion, evil desire, and covetousness, which is idolatry" (Colossians 3:5). The only way for us to live in clear-conscience relationship with God is to let the authority of His Word be able to take us down. May He forgive us "every lofty opinion raised against the knowledge of God" (2 Corinthians 10:5). Simply let Him be Lord.
2) Because when God says, "Don't," He means, "Don't hurt yourself." I've made this statement countless times, but the expiration date on its truth never runs out. Choose to sin; choose to suffer. Stop thinking you'll be the first person in human history to find an exception to this rule.
3) Because relationships built upside-down don't last. Physical attraction can never support a lifetime of marriage. So when that's where marriage starts—even before it starts—the structure will need to be torn down and rebuilt if it hopes to survive. The proper way to construct a marriage is by beginning with love for Christ, committing to live under the authority of His Word, and deciding to obey Him. Eros is the topping on the sundae of an awesome marriage, not the first layer that's sure to melt away.
4) Because relationships that involve sex before marriage are difficult to break. The introduction of eros prior to the commitment of marriage can make you desperate to keep maintaining and pursuing the relationship, even if it's fraught with trouble. Your family and friends may see the problems, common sense may be waving red flags, but you'll fight to keep it going in an effort to avoid watching the precious part of yourself that you've given to this person become a discarded waste.
That's why the Song of Solomon says not to "stir up or awaken love" until the time when eros can settle into its appropriate place, where it can function as a generator of pure love and blessing in marriage. To awaken it too soon will only cause it to get ahead of itself and to impose undue control and influence over you.
There's a reason why God designed eros to work this way. There's a method to this alleged madness of marital exclusivity. And when we wake up one day to find He's right—which we will—how much better to let it fall on us with the grateful recognition that God's ways are best, than with the costly sadness of a life lived outside of His pleasant boundaries.
Journal
Spend some time in payer asking God to show you any areas where you resist the authority of His Word.
Whether you're married or single, what are some ways you could come into greater agreement with the Lord's design for eros?
Pray
Lord, thank You for the precious, powerful gift of eros that You've given us to experience as married partners for life. What an incredible joy and blessing. Thank You, too, for helping make its benefits so beautiful by teaching us how to protect it. I ask You to place all my wants and desires under the authority of Your Word, and even where I struggle to desire Your way, help me to wantto want it. Please forgive me and grant healing for the ways I've defiled Your gifts. Thank You for being Healer and Redeemer. Make me an example of someone whose life testifies to the surpassing value of Your truth. I surrender to You afresh today, in the matchless name of Jesus. Amen.
For more from Dr. James MacDonald please visit Walk in the Word on OnePlace.com. 
---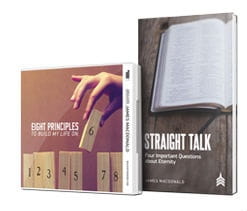 Navigating the complex issues that our world is facing can be difficult for any believer. This is why it's more important than ever that you are able to stand firm in your faith. That's why one of the most important things every believer can do is to strengthen your foundation in the Lord.
I want to help you take steps to strengthen yourself in the Lord. That's why I'm so excited about the resources that we're making available this month. God has given you every tool that you need—not just to survive, but to thrive. And the deeper your spiritual roots go, the more equipped you'll be to live in the confident understanding of God's plan for your life.
- James MacDonald
Request the Strengthen Your Foundation Collection with your gift of any amount to the ministry of Walk in the Word.