What About the Sexual Laws in Leviticus?
By David Chadwick
An important rule for proper biblical interpretation is this one: You interpret the Old Testament with the New Testament.
That's why the clothing laws in Leviticus aren't applicable for today. Jesus's death on the cross canceled those requirements. The same is true for the food laws. They too were abrogated through the cross. The New Testament clearly says so (Acts 10).
But what about the moral law – especially the sexual laws in Leviticus 18? They have not been changed.
The New Testament and Jesus repeatedly affirm that God intended sex to be used within the parameters of a committed, heterosexual, and monogamous marriage relationship. It was God's design in creation (Genesis 2:24), affirmed by Jesus (Matthew 19:4-6), and reaffirmed by Paul (Ephesians 5:22-33).
Leviticus is God's holiness book to Israel on how to live differently as his people among pagan nations. That includes sexual morality.
With this in mind, now read the extensive list of sexual sins in Leviticus 18. Anything on that list is not God's will.
Now examine our culture. It increasingly reflects our desire to remove any and all sexual restraints. We want to use sex for our pleasure and benefit whenever we desire.
But think about this: If everyone everywhere practiced Genesis 2:24 – God's original intent for sexual purity – how many problems would eventually vanish? STDs, abortions, unwanted pregnancies, the pain of divorce and abandonment, and many others as well.
It's called the Kingdom of God. It's what Jesus came to bring to earth.
But this Kingdom will come only if we seek it above all else (Matthew 6:33) – including our sexual practices.
If not, our society's problems will only grow and grow.
---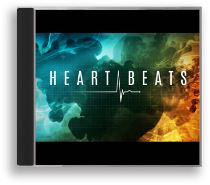 Live in-tune with the heartbeat of God!
God might have blessed all Christians with grace, but sin still affects our lives.
It steals our happiness and keeps us from experiencing fullness and meaning that Jesus intended us to enjoy.
We want you to live a righteous, fulfilling life that's aligned with the heartbeat of God—so you don't have to live another moment in the miserable pitfalls of sin. That's why we want to send you David Chadwick's CD series, Heart Beats, as our thanks for your gift below to reach others with the hope of Jesus Christ.
This insightful series offers biblical perspectives on subjects such as...
Worthlessness & Shame
Disappointment
Loneliness
Parenting
And more!
So, give and get your copy of Heart Beats today! And, thank you for your partnership to give the lost and the lonely a reason for hope.
For more from Moments of Hope, visit us at MomentsofHope.org.