What About All Those Sacrifices?
By David Chadwick
When people read Leviticus, they often yawn. They start reading about meal, grain, peace, and blood sacrifices and ask, "Huh? What does all that mean? And how does it apply to my life?"
When you read the Old Testament, you need to do so through the lenses of what's called types and foreshadows. They are terms that suggest a future understanding and interpretation. In other words, you interpret the Old Testament through the New Testament.
The meal, grain, and peace offerings are designed by God to remind the Israelites that God is God and they are not God. They are regularly baked into their lives to constantly remind them that they exist only because God sovereignly chose them. They owe their freedom to the God who delivered them from Egyptian captivity.
The blood sacrifices – that often demanded a pure, unblemished lamb – were a type and foreshadowing of Jesus's death on the cross. The Israelites understood that shed blood was necessary for the forgiveness of sins.
Later, Christians would see Jesus as the perfect Lamb of God who shed his blood for the forgiveness of our sin (John 1:29).
Therefore, don't yawn too much when you read about the different sacrifices in Leviticus – especially the blood ones. See Jesus in them to remind us that we are not our own but were bought with a price – the precious blood of Jesus (1 Corinthians 6:20).
See Jesus in the blood sacrifices – his blood shed on the cross for the forgiveness of our sins.
And the sacrifices in Leviticus actually become interesting and meaningful!
---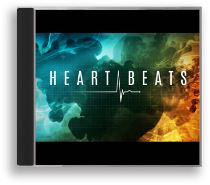 Live in-tune with the heartbeat of God!
God might have blessed all Christians with grace, but sin still affects our lives.
It steals our happiness and keeps us from experiencing fullness and meaning that Jesus intended us to enjoy.
We want you to live a righteous, fulfilling life that's aligned with the heartbeat of God—so you don't have to live another moment in the miserable pitfalls of sin. That's why we want to send you David Chadwick's CD series, Heart Beats, as our thanks for your gift below to reach others with the hope of Jesus Christ.
This insightful series offers biblical perspectives on subjects such as...
Worthlessness & Shame
Disappointment
Loneliness
Parenting
And more!
So, give and get your copy of Heart Beats today! And, thank you for your partnership to give the lost and the lonely a reason for hope.
For more from Moments of Hope, visit us at MomentsofHope.org.