The Word of God
By David Chadwick
For those who love sports, you hear this phrase repeatedly: "Defense wins games." It's true. If you can keep your opponent from scoring, you will always have a better chance of winning.
Perhaps that's why most every part of the full armor of God is defensive. From the belt of truth to the breastplate of righteousness, to the helmet of salvation, to the shield of faith – all these items aid the soldier's defensive posture in battle.
Except for one: the soldier's sword. It is symbolic of God's Word. The believer's one offensive weapon is the Word of God.
Although defense wins games, you must also score. Without any offense, the best you can hope for is a tie – zero to zero. Which prevents you from experiencing victory.
Jesus knew the value of using God's Word as an offensive weapon to defeat the enemy (Matthew 4:1-11). In response to the three temptations that came from the devil, Jesus quoted from the book of Deuteronomy. The evil one retreated with no answer.
Jesus must have memorized the Bible as a child. Surely Joseph and Mary planted God's Word deep in his heart. Therefore, it was always on the tip of his tongue to be spoken to the enemy when he attacked.
King David adjured his readers to put God's Word in their hearts so they will not sin against God (Psalm 119:11). He too must have known the power of God's Word to defeat the enemy's onslaughts.
Always remember: You can't use God's Word to win if you don't know it.
Therefore, read, study, and memorize the Word of God. Place it deep in your soul. And put it on the tip of your tongue.
You will need offense and defense to win against the enemy.
And God's Word is the strongest offensive weapon you will ever have.
---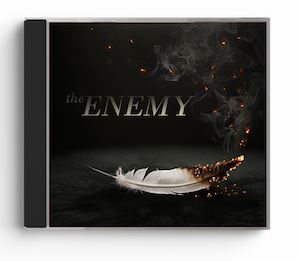 Stand strong in the attack
God's equipped you with exactly what you need to defend yourself from the devil when he comes creeping into your life.
David Chadwick's CD set, The Enemy, shows you how to use the tools God has given you to resist Satan's advances.
In it, you'll learn how to:
Use God's Word, the ultimate defense, to deflect evil
Resist the Devil's advances
Pray to fight temptation
Submit to God and let Him work it out for your good
The Enemy is our gift to thank you for your donation to give more reason for hope in Jesus. So request it below when you give.
We pray it helps you stand strong against your enemy!
For more from Moments of Hope, visit us at MomentsofHope.org.