The Shoes of Peace
By David Chadwick
Can you imagine a football player trying to play his position without cleats on his shoes? Or a basketball player running around the court in his socks? Or a soldier engaging in warfare with shoes too large for him to move around in?
Shoes are very important when facing an opponent. They need to fit snugly, give some kind of traction, and allow you to move quickly. Otherwise, the enemy will win.
To defeat your spiritual enemy, you must put on the shoes of the gospel of peace.
What is the gospel of peace? It is the good news of Jesus's promised presence (John 14:27). It's a peace unlike anything in this world.
The world thinks that peace is the mere absence of conflict. But Jesus's peace goes much deeper. Jesus promised to be with you always – even to the close of human history. He will never leave nor forsake you (Hebrews 13:5).
Jesus's peace is his personal presence.
This means that whenever you face your spiritual opponent, Jesus stands with you. In fact, he is fighting the battle for you.
Since the devil is only a creature – and Jesus is his Creator – your victory over the enemy is assured. He was defeated resoundingly through the cross and the resurrection. A victory parade was held in heaven thereafter that displayed Satan's humiliation (Colossians 2:15).
Therefore, you can stand firm when you face your enemy's onslaughts. You can deftly outmaneuver and sidestep any of his tricks. Jesus is with you. He is fighting for you. And your victory has already happened.
This truth should bring enormous peace to your soul.
Just make sure today that you put on these shoes. Be certain that they fit snugly.
And always stand secure in Jesus's promised presence.
---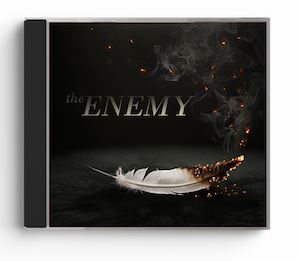 Stand strong in the attack
God's equipped you with exactly what you need to defend yourself from the devil when he comes creeping into your life.
David Chadwick's CD set, The Enemy, shows you how to use the tools God has given you to resist Satan's advances.
In it, you'll learn how to:
Use God's Word, the ultimate defense, to deflect evil
Resist the Devil's advances
Pray to fight temptation
Submit to God and let Him work it out for your good
The Enemy is our gift to thank you for your donation to give more reason for hope in Jesus. So request it below when you give.
We pray it helps you stand strong against your enemy!
For more from Moments of Hope, visit us at MomentsofHope.org.