The Power of a Smile
By David Chadwick
If you're having a bad day, try this idea. Make a decided effort to smile at every person with whom you come in contact.
You say you don't feel like doing it? Do it anyway. Fake it until you make it. Put your emotions into motion. And see what happens.
A smile is a way of saying to your face that you control your life. It's deciding to be happy amidst your despair. It's telling the world that you are trying, as best you know how, to make lemons out of your lemonade.
Then, when you do, your feelings follow. Your heart becomes lighter. Hope brightens your day. Positive emotions start to fill your heart.
You don't think it will work? Do it anyway. Smile at every person you meet today. And, when possible, let the smile be accompanied with a "Hope you are having a great day!"
And see if your day doesn't get better.
---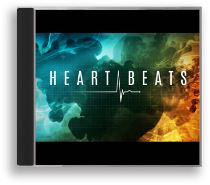 Live in-tune with the heartbeat of God!
God might have blessed all Christians with grace, but sin still affects our lives.
It steals our happiness and keeps us from experiencing fullness and meaning that Jesus intended us to enjoy.
We want you to live a righteous, fulfilling life that's aligned with the heartbeat of God—so you don't have to live another moment in the miserable pitfalls of sin. That's why we want to send you David Chadwick's CD series, Heart Beats, as our thanks for your gift below to reach others with the hope of Jesus Christ.
This insightful series offers biblical perspectives on subjects such as...
Worthlessness & Shame
Disappointment
Loneliness
And more!
So, give and get your copy of Heart Beats today! And, thank you for your partnership to give the lost and the lonely a reason for hope.
For more from Moments of Hope, visit us at MomentsofHope.org.