The Helmet of Salvation
By David Chadwick
To defeat the enemy, every piece of the full armor of God must be utilized (Ephesians 6:10-20). Along with the belt of truth and the breastplate of righteousness, make sure you also put on the helmet of salvation.
What is salvation? It's God's forgiveness of your sins forever. It's a free gift made available to you by Jesus's death on the cross (Ephesians 2:8-9). If you are a Christian, heaven is now your home.
But salvation through Jesus also affects you today. It means God oversees every area of your life. He desires it to be abundant and meaningful. Salvation means God's assurance that his plan for your life won't be thwarted.
That's why you must put on the helmet of salvation. It covers your head, brain, and mind.
This is very important to understand.
You are what you think. Whatever you put into your mind is how you will eventually behave.  First, you think a thought. Next, you sense a feeling connected to the thought. Finally, you act on the feeling.
If you want to change your behavior, you must first change how you think. That's why it's essential that you learn how to train your mind to think Jesus's thoughts. You then are transformed by the renewal of your mind (Romans 12:2).
When the enemy attacks your mind about your salvation, make certain:
You train your mind to remind yourself that your eternal salvation is secure. Nothing can separate you from Jesus's love – nothing!
You train your mind to believe that God is for you. You need not fear anything. God protects all parts of your life – everything!
Don't allow the enemy to have access to your mind.
It needs to be protected by the helmet of salvation.
Make sure you put it on today.
---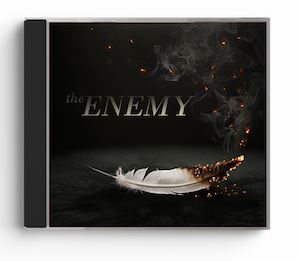 Stand strong in the attack
God's equipped you with exactly what you need to defend yourself from the devil when he comes creeping into your life.
David Chadwick's CD set, The Enemy, shows you how to use the tools God has given you to resist Satan's advances.
In it, you'll learn how to:
Use God's Word, the ultimate defense, to deflect evil
Resist the Devil's advances
Pray to fight temptation
Submit to God and let Him work it out for your good
The Enemy is our gift to thank you for your donation to give more reason for hope in Jesus. So request it below when you give.
We pray it helps you stand strong against your enemy!
For more from Moments of Hope, visit us at MomentsofHope.org.