Stick to Love
By David Chadwick
I love this quote from Martin Luther King: "I have decided to stick to love. Hate is too great a burden to bear." He also said, "Darkness cannot drive out darkness, only light can do that. Hate cannot drive out hate. Only love can do that."
He's right. For any of us who have ever felt anger and bitterness toward someone who has hurt us, we've likely realized that carrying these emotions is terribly burdensome. They bend our shoulders and crack our emotions. Eventually, we are the ones continually hurt, over and over again, by the one who hurt us initially.
Therefore, it's much better to choose love. Stick to love. Love energizes the soul. It gives hope to the despairing. It allows life to move forward without us being stuck in the quagmire of hatred.
No one can make this choice but you. This choice will move you toward health and wholeness, while the other moves you toward bitterness and pain.
Isn't love always the much better choice?
---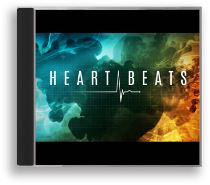 Live in-tune with the heartbeat of God!
God might have blessed all Christians with grace, but sin still affects our lives.
It steals our happiness and keeps us from experiencing fullness and meaning that Jesus intended us to enjoy.
We want you to live a righteous, fulfilling life that's aligned with the heartbeat of God—so you don't have to live another moment in the miserable pitfalls of sin. That's why we want to send you David Chadwick's CD series, Heart Beats, as our thanks for your gift below to reach others with the hope of Jesus Christ.
This insightful series offers biblical perspectives on subjects such as...
Worthlessness & Shame
Disappointment
Loneliness
And more!
So, give and get your copy of Heart Beats today! And, thank you for your partnership to give the lost and the lonely a reason for hope.
For more from Moments of Hope, visit us at MomentsofHope.org.