Love Your Neighbor
By David Chadwick
Sometimes we may forget that Jesus was a devout Jew raised in a home with two very committed, godly parents. He was taught the Torah from his earliest days (Genesis, Exodus, Leviticus, Numbers, and Deuteronomy). It was embedded in his psyche. He may have even memorized it in its entirety.
Jesus reduced all the Old Testament laws to two: Love God and love your neighbor (Mark 12:30-31).
Jesus must have learned about loving your neighbor from Leviticus 19:18: "You shall not take vengeance or bear a grudge against the sons of your own people, but you shall love your neighbor as yourself. I am the Lord" (ESV).
Many people don't love God and neighbor this way. They practice the opposite: the law of retaliation. If you hurt me, there will be greater pain in return. It's an eye-for-an-eye and a tooth-for-a-tooth mentality. That's why Gandhi taught that if you practice the law of retaliation, everyone will eventually be sightless and toothless!
But God's people are supposed to live differently from the pagan world around them. They are to love God and their neighbor. They are to forgive and refuse to retaliate. They leave vengeance to God (Romans 12:19). He alone knows perfect justice.
Love your neighbor. When this is done, the world is a healthier and better place in which to live.
And remember that this teaching's genesis was in the book of Leviticus!
---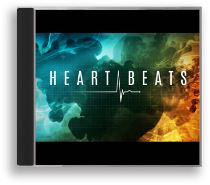 Live in-tune with the heartbeat of God!
God might have blessed all Christians with grace, but sin still affects our lives.
It steals our happiness and keeps us from experiencing fullness and meaning that Jesus intended us to enjoy.
We want you to live a righteous, fulfilling life that's aligned with the heartbeat of God—so you don't have to live another moment in the miserable pitfalls of sin. That's why we want to send you David Chadwick's CD series, Heart Beats, as our thanks for your gift below to reach others with the hope of Jesus Christ.
This insightful series offers biblical perspectives on subjects such as...
Worthlessness & Shame
Disappointment
Loneliness
Parenting
And more!
So, give and get your copy of Heart Beats today! And, thank you for your partnership to give the lost and the lonely a reason for hope.
For more from Moments of Hope, visit us at MomentsofHope.org.