How to Be Holy
By David Chadwick
God's command to be holyis found in both the Old and New Testaments. He told the Israelites to be holy as he was holy (Leviticus 20:26). The same idea is repeated by Peter in the New Testament (1 Peter 1:16).
How does a person become holy to God?
Most people think this command is impossible. They know their behavior. They know the bondage of their bad habits and degrading hang-ups.
Is there a way to be holy? Yes, but it can only happen one way: through the cross of Calvary.
On the cross, Jesus, who knew no sin, took all of our sins upon himself so that we might become his perfect righteousness (2 Corinthians 5:21).
It's called the Great Exchange. We exchange our sin for his holiness. This new nature is given as a free gift from Jesus by grace through faith and not of our works (Ephesians 2:8-9). He knew that humans could never do enough to earn his favor and forgiveness.
Because of the cross, God now declares Christians as holy. We now live as we are. Our greatest desire is to be a holy, set apart, different person from the world's false system of values and notoriety.
As Christians, we now behave in accordance with who we are.
And our holiness proves our devotion to the one who died to give us the gift of eternal life.
---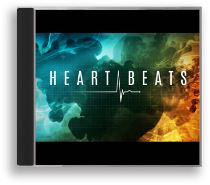 Live in-tune with the heartbeat of God!
God might have blessed all Christians with grace, but sin still affects our lives.
It steals our happiness and keeps us from experiencing fullness and meaning that Jesus intended us to enjoy.
We want you to live a righteous, fulfilling life that's aligned with the heartbeat of God—so you don't have to live another moment in the miserable pitfalls of sin. That's why we want to send you David Chadwick's CD series, Heart Beats, as our thanks for your gift below to reach others with the hope of Jesus Christ.
This insightful series offers biblical perspectives on subjects such as...
Worthlessness & Shame
Disappointment
Loneliness
Parenting
And more!
So, give and get your copy of Heart Beats today! And, thank you for your partnership to give the lost and the lonely a reason for hope.
For more from Moments of Hope, visit us at MomentsofHope.org.