Holiness as Witness
By David Chadwick
God wanted Israel to be a blessing to the nations (Genesis 12:3). He also called them to be a light to the nations of the world (Isaiah 49:6).
God designed Israel to be a witness to the world through its holiness. It would be a nation in a covenant relationship with God, always remembering his deliverance from the Egyptian bondage. In response, Israel would obey God's laws and be a holy people.
Then God would bless his people as they obeyed his holy laws. The nations of the world would be amazed at how richly Israel was blessed by their God. They would come to Israel and discover it was because of their holiness. Therefore, they would desire to know and obey the God of Israel as well.
Holiness became a witness to a lost world!
If God's people aren't holy or different from the world, how can you expect the world to desire the God you say you love and serve? Why would they want to follow the Jesus whom you call Lord and Savior?
Never forget that being holy is not optional. It's a witness to a world that needs Jesus. If you aren't different from the world's systems and values, no one will give a second thought to your Jesus.
It's a truth every Christian must consider.
---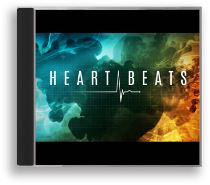 Live in-tune with the heartbeat of God!
God might have blessed all Christians with grace, but sin still affects our lives.
It steals our happiness and keeps us from experiencing fullness and meaning that Jesus intended us to enjoy.
We want you to live a righteous, fulfilling life that's aligned with the heartbeat of God—so you don't have to live another moment in the miserable pitfalls of sin. That's why we want to send you David Chadwick's CD series, Heart Beats, as our thanks for your gift below to reach others with the hope of Jesus Christ.
This insightful series offers biblical perspectives on subjects such as...
Worthlessness & Shame
Disappointment
Loneliness
And more!
So, give and get your copy of Heart Beats today! And, thank you for your partnership to give the lost and the lonely a reason for hope.
For more from Moments of Hope, visit us at MomentsofHope.org.