Decide Before
By David Chadwick
The enemy knows your weaknesses. He closely studies your life's game films. He knows where he can tempt and ensnare you.
How do you begin to thwart the devil's strategies? There are two necessary steps.
First, you must know your own weaknesses. Study those places in your life where you know that you are vulnerable to the enemy's temptations.
If you're not sure what they may be, ask a close friend. Or your spouse. Rest assured that those closest to you are likely to see and know them.
Make a list of those things you are certain are not God's will. See then where your life intersects with this list and ask the Lord where your weaknesses may be.
Jesus speaks to his followers (John 10:27). He honors a humble prayer that seeks his guidance and help. He will show you your weak spots.
Next, make a decision now that when you are presented with those temptations, you will not give in. Decide what you will do before the temptation comes.
That's what Daniel did. As a teen, he was taken into the Babylonian captivity. He knew that he would face unrestrained godlessness. He realized that God's morality, taught to him from infancy, would not be honored in the Babylonian culture.
Therefore, Daniel chose to follow God's will before he wasconfronted with the temptation (Daniel 1:8). He had already made the decision. As a result, the temptation lost its power.
Do you want victory over the devil? Know your weaknesses. Then pray every day that the Holy Spirit will lead you away from any temptation rooted in your vulnerability (Matthew 6:13).
Jesus will.
And then make the decision to obey God before you are presented with the temptation.
Your desire will be to obey God's will. The enemy will be frustrated. He knows that when you commit to obeying God, he can't defeat you.
In these ways, you can be set free from all the enemy's wiles.
---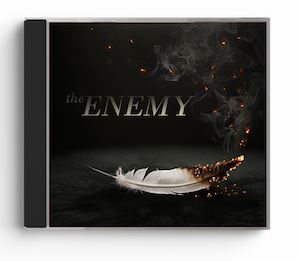 Stand strong in the attack
God's equipped you with exactly what you need to defend yourself from the devil when he comes creeping into your life.
David Chadwick's CD set, The Enemy, shows you how to use the tools God has given you to resist Satan's advances.
In it, you'll learn how to:
Use God's Word, the ultimate defense, to deflect evil
Resist the Devil's advances
Pray to fight temptation
Submit to God and let Him work it out for your good
The Enemy is our gift to thank you for your donation to give more reason for hope in Jesus. So request it below when you give.
We pray it helps you stand strong against your enemy!
For more from Moments of Hope, visit us at MomentsofHope.org.