Calling All Angels
By David Chadwick
After Jesus thwarted the enemy's temptations, he was spent. He should have been. Not only was he physically and emotionally exhausted after 40 days of fasting in the wilderness, but he had just finished spiritual warfare with a creature of enormous strength.
The devil had lost the battle. Therefore, he left Jesus alone, looking for a more opportune time to reattack him (Luke 4:13).
How did Jesus begin to recover his strength? The Bible says that angels from heaven were sent to minister to him (Matthew 4:11). The angels knew Jesus. He was their Creator. They had worshipped him in heaven before he put on human flesh.
The creatures now cared for their Creator.
The angels probably fed Jesus and gave him water. I wonder if they stroked his furrowed brow and massaged his fatigued body – perhaps holding him in their wings as he slept. Perhaps they spoke words of heavenly encouragement as Jesus readied himself for the next leg of his earthly mission.
That's why angels were created: to do God's bidding. In addition, they were created to minister to God's elect (Hebrews 1:14).
If angels cared for God's elect Son, Jesus, wouldn't they also be available to care for his earthly children as well?
I believe so.
Therefore, if you are tired, frustrated, or overwhelmed and need some help today, why not ask for angelic help? Ask the Father to send them to care for you. They love to do his will.
Pray like this to the Father: Calling all angels! Calling all angels! I need your help today. Father, please send even one! Even one would be enough for me.
The Father will hear this kind of prayer. It's a biblical promise.
And beware: You just may sense them whispering words of heavenly encouragement to you for the next leg of your life's journey.
---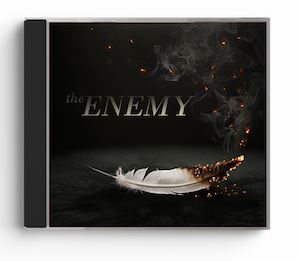 Stand strong in the attack
God's equipped you with exactly what you need to defend yourself from the devil when he comes creeping into your life.
David Chadwick's CD set, The Enemy, shows you how to use the tools God has given you to resist Satan's advances.
In it, you'll learn how to:
Use God's Word, the ultimate defense, to deflect evil
Resist the Devil's advances
Pray to fight temptation
Submit to God and let Him work it out for your good
The Enemy is our gift to thank you for your donation to give more reason for hope in Jesus. So request it below when you give.
We pray it helps you stand strong against your enemy!
For more from Moments of Hope, visit us at MomentsofHope.org.