Be a Gardener
By David Chadwick
The husband is called to be a gardener of his marriage and family. It's a strong biblical image. Israel was called a vineyard, with God as the vinedresser. His responsibility was to carefully nurture Israel's spiritual life. So is a husband in his marriage and family.
How should this be done?
First, the husband must initiate the spiritual gardening. You desire to prompt spiritual oversight.
Husband, it's your responsibility to find the time to talk with your wife about spiritual pests or weeds that have entered her garden. You overcome them with the power of the Word of God and prayer. You desire to pray for her and draw her closer to God.
Then, as spiritual gardener, you should do the same for your children. You listen to their hearts and hear their inward angsts. You pray God's Word over them. You make sure you have a steady hand and faith-filled heart to speak spiritual nutrients to their souls whenever and wherever needed.
My wife, Marilynn, desired for me to take on this responsibility. I gladly did so. As a result, she felt honored. We were drawn closer together. And the kids felt protected, nurtured, and edified.
"Unless the Lord builds the house, all those striving are laboring in vain" (Psalm 127:1).
---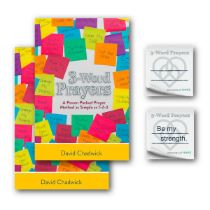 Simplify your prayer life with three words
Prayer is vital to our spiritual health. It's so important that 1 Thessalonians 5:17 tells us to "Pray without ceasing." Yet we often find it difficult to follow that command. Relationships and responsibilities vie for our attention, and prayer often gets placed on the back-burner. But it's possible to make 2019 your year of focused and increased prayer!
David Chadwick's latest booklet, 3-Word Prayers, can help you do just that. It suggests a power-packed approach to prayer that cuts through life's busyness. And, it's as simple as 1-2-3—just trim your prayers to three words.
For more from Moments of Hope, visit us at MomentsofHope.org.