Authority
By David Chadwick
The symbol for the enemy is the upside-down A. That's intentional. It expresses his desire not to be under any authority – especially God's.
That's why the enemy constantly tries to find ways to get you to disobey God. When you do, you have removed yourself from being under his authority. You are now yielded to the enemy's kingdom of darkness.
And your prayers are neutered – including those offered in Jesus's name.
The devil's first temptation to Eve was twofold. First, he tried to get her to doubt that God's word is true. "Did God really say?" he asked (Genesis 3:1).
Next, he wanted Eve to eat the fruit of the tree of the knowledge of good and evil. When she did that, she was in effect declaring that she now defined what is good and evil, not God.
It was a consummate act of rebellion against God's authority. And all humanity was affected. All the world's ills are rooted in this moment of treachery.
Before Jesus's ascension, after defeating the enemy on the cross and through the resurrection, he declared that all authority had been granted to him (Matthew 28:18-20). His name is now above all other names in the universe – especially the enemy's. The demonic world flees at the mention of his name.
But for Jesus's authority to work in your life as one of his followers, you must place yourself under Jesus's dominion. The doing of his will must be the master passion of your life.
When you don't, his power in and through you is thwarted.
Therefore, when you pray today in the name of Jesus, make sure you are under his authority.
Be relentless to do his will, not yours.
Otherwise, your prayers are impotent.
And Jesus's Kingdom cannot advance through you.
---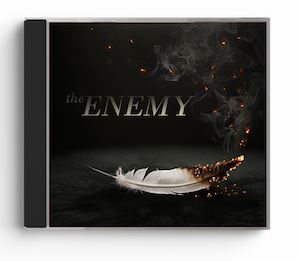 Stand strong in the attack
God's equipped you with exactly what you need to defend yourself from the devil when he comes creeping into your life.
David Chadwick's CD set, The Enemy, shows you how to use the tools God has given you to resist Satan's advances.
In it, you'll learn how to:
Use God's Word, the ultimate defense, to deflect evil
Resist the Devil's advances
Pray to fight temptation
Submit to God and let Him work it out for your good
The Enemy is our gift to thank you for your donation to give more reason for hope in Jesus. So request it below when you give.
We pray it helps you stand strong against your enemy!
For more from Moments of Hope, visit us at MomentsofHope.org.